International Baccalaureate
The only all-girls Catholic school in Baltimore to offer the prestigious International Baccalaureate Programme!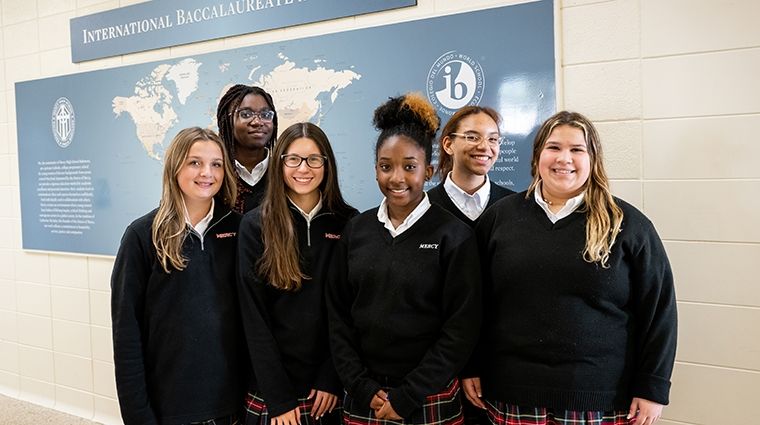 Widely considered the world's premier academic curriculum, the International Baccalaureate (IB) is the perfect fit with Mercy High School's educational philosophy of excellence. Student inquiry, intellectual risk-taking, and international mindedness permeate our classrooms and ensure our Mercy Girls are well-prepared for college and beyond.
An IB Education
Focuses on learners. The IB's student-centered programs promote healthy relationships, ethical responsibility, and personal challenge.
Develops effective approaches to teaching and learning. IB programs help students to develop the attitudes and skills they need for both academic and personal success.
Works within global contexts. IB programs increase understanding of languages and cultures and explore globally significant ideas and issues.
Explores significant content. IB programs offer a curriculum that is broad and balanced, conceptual and connected.
---
Middle Years Programme
All Mercy students in grades 9 and 10 take part in the International Baccalaureate Middle Years Programme (MYP). Through IB MYP, Mercy provides each student with a rigorous world-class educational experience, encouraging academic achievement, intellectual confidence, and personal growth.
---
Diploma Programme
Mercy is a Candidate School* for the Diploma Programme (DP). We are an IB World School, offering the Middle Years Programme, and are pursuing authorization for the DP. The process of becoming a DP school takes about two years, so we anticipate the Class of 2027 will be the first to take DP courses as juniors.
IB World Schools share a common philosophy - a commitment to high-quality, challenging, international education - that we believe is important for our students. The DP will be offered to grades 11 and 12. It is similar to AP courses in that it is optional, rigorous, and can provide college credits. Additionally, the IB DP is internationally renowned.
---
What are the advantages of an IB education?
IB World Schools (the only schools authorized to offer IB programs) are subject to a strict accreditation process monitored by the IB, ensuring that schools provide a high-quality education.
IB teaching methods and curriculums are research-based and draw from the best educational practices from systems around the world.
IB teachers are required to participate in many professional development opportunities to continually promote their awareness of current educational practices and new thinking.
IB programs are recognized internationally. Universities and future employers recognize the depth and breadth of the rigorous work undertaken by IB students.
---
*Only schools authorized by the IB Organization can offer any of its four academic programs: the Primary Years Programme (PYP), the Middle Years Programme (MYP), the Diploma Programme (DP), or the Career-related Programme (CP). Candidate status gives no guarantee that authorization will be granted. For further information about the IB and its programs visit http://www.ibo.org