SPRING/SUMMER 2020
Sr. Donna Marie (Barbara) Coward, RSM '65 was featured in the March/April 2020 edition of ¡viva!mercy, a publication for sisters, associates, and companions of the Sisters of Mercy of the Americas. Sr. Donna Marie serves the community at St. Joseph's/Candler Health System in Savannah, Georgia as chaplain. To read the entire article, go here and choose the March/April 2020 issue.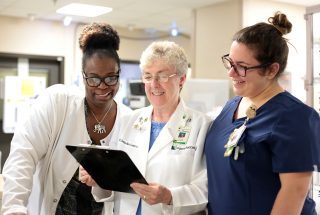 ---
Jackie Stilling LCPC '82, P'14, '16 was the presenter for a free continuing education event, co-hosted by Maryland Addiction Recovery Center and Ashley Addiction Treatment. Jackie's presentation entitled "Mindfulness in Recovery," explored how mindfulness can be a powerful tool to help bring one fully into the present moment and allowed participants to discover the meaning of mindfulness, ways to become more mindful, and shy mindfulness is important to those in recovery.
---
Cindy Cherry Voith '79, P'07, '12, RN is a registered nurse in Mercy Medical Center, Baltimore's recovery room. During the pandemic, Cindy volunteered to transfer unit to work with patients with COVID-19. According to Mercy Medical Center's Director of Perianesthesia Services, "Cindy has charge nurse leadership experience, a compassion for patients and a willingness to do whatever is needed in this crisis." Of her work with COVID-19 patients, Cindy says, "Behind all that [gear] you try to be as human as you can. You sit with them; you hold their hands. And whether or not a patient goes home, you tell yourself, 'this is what we trained for.'" To read an article and watch a video clip from The Baltimore Sun featuring Cindy and her work, go here.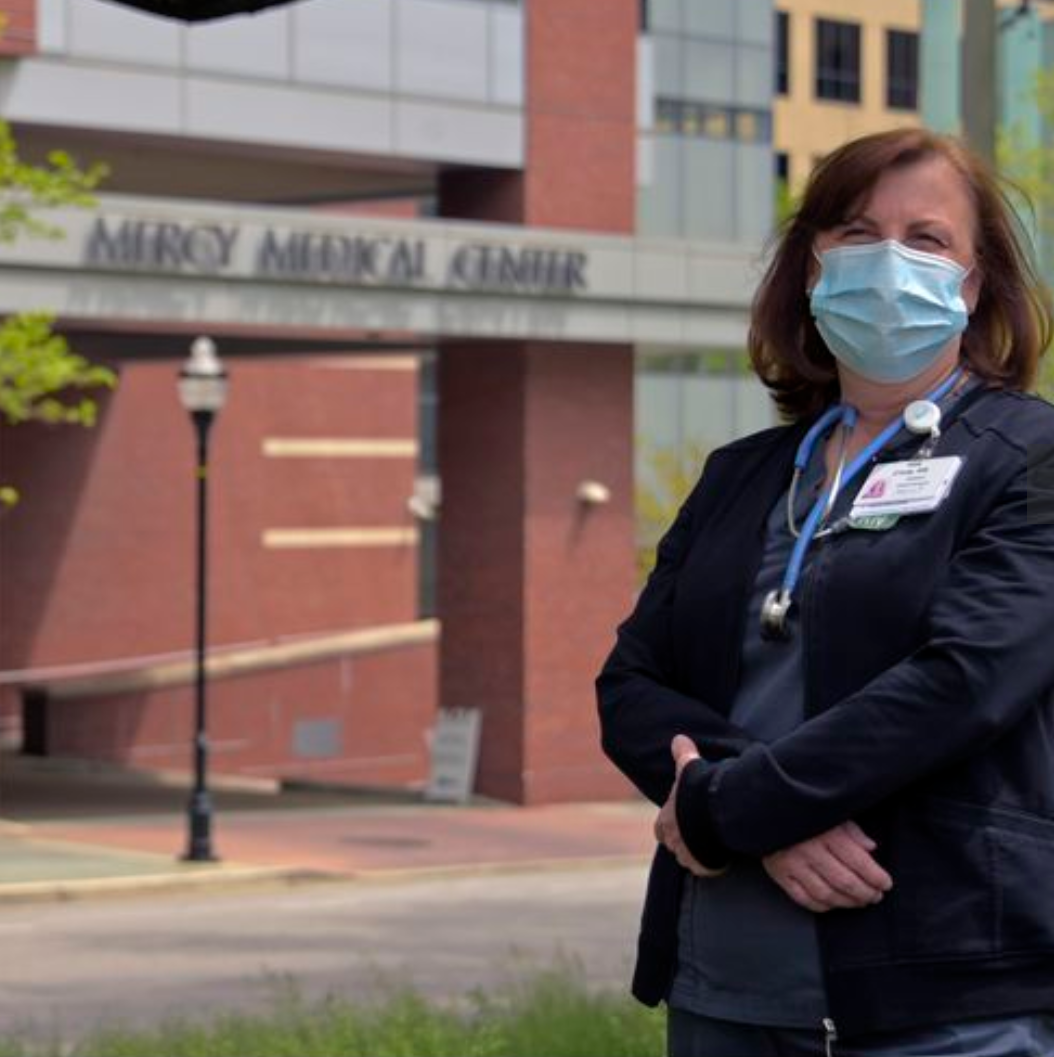 ---
Rosemary Kosiorek Meyer '88 was recently featured on the West Virginia University athletic website. Rosemary, an alumna of Mercy's basketball program, was a member of West Virginia University's Women's Basketball team from 1988-1992. During that time, Rosemary, an All-American guard, led the Mountaineers to the 1992 NCAA tournament. To read more about Rosemary, and watch a video clip of her career highlights, go here.
---
Vicki Barghout '93 has led various pharmaceutical divisions in the health care industry for over 20 years and is an Oncology Health Economics and Outcomes Research expert. She has published over 35 manuscripts in top-tier journals and has presented over 110 abstracts at major international conferences. Her research has been quoted in the Wall Street Journal and the New York Times. Ten years ago, Vicki was leading the oncology research division at a major pharmaceutical company when she was diagnosed with breast cancer. Her desire to merge her medical knowledge with her need to know what else she could do to stay strong during cancer treatments in order to care for her young family led Vicki to found Viver Health in 2013 and Viver Joy in 2020. Vicki is now cancer free and the happily married mom of two young daughters. She is also the CEO of both companies. To learn more about them, go here.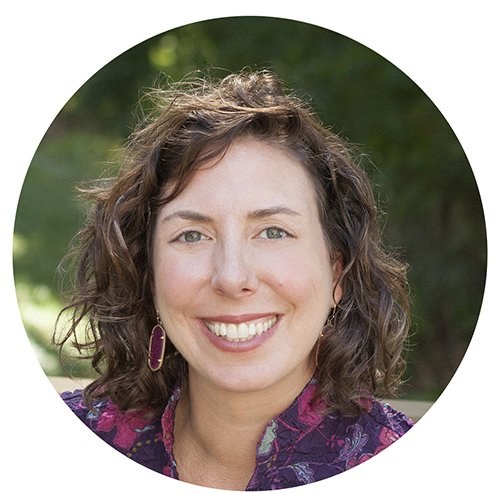 ---
Karen Krastel Peakes '93 is an audiobook narrator, working with Brilliance Audio, Tantor, and Bookouture (in the UK). All of her titles can be found on Audible, Amazon, etc.
---
Robin Rhodes Haynes '95, bestselling author and financial strategist, has released her new book, This Is Not the Final Chapter: A Memoir of Faith, Strength and Tenacity detailing her struggles and triumph as an illustration to remind readers not to be defined by their obstacles. To read more about Robin's book, go here.
---
Michele Huffman Mueller '98 was featured in Baltimore's Child. In an article entitled Mom Life, Michele, director of special events at Kennedy Krieger Institute, shared her experiences as a mom. To read the article, go here.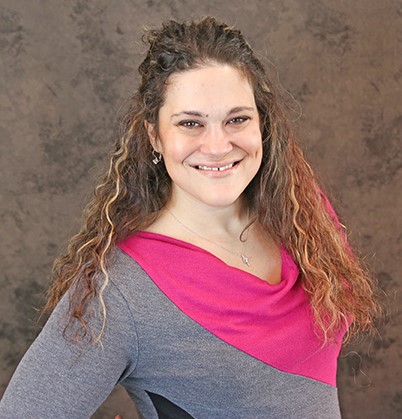 ---
Ashley Valis, MSW '00, the the executive director of University of Maryland, Baltimore's Office of Community Engagement, presented "A Glimpse into the University of Maryland Baltimore's Community Renaissance in Southwest Baltimore" to the Woman's Club of Baltimore. This presentation detailed how Ashley has contributed to the Renaissance in Southwest Baltimore and what the University of Maryland Baltimore is doing to grow a healthy community. To read more about Ashley's work and to listen to her share her passion for the community, go here.

---
Briana Snyder, PhD, RN-BC, CNE '01 is a Registered Nurse at Sheppard Pratt Hospital, in the Trauma Disorders Unit. Briana is also an assistant professor at Towson University where her areas of expertise include Psychiatric and Mental Health Nursing, Dissociative Disorders and Intimate Partner Violence, and Nursing Education. In addition, Briana is a Board Certified Psychiatric Mental Health Nurse, and has authored several publications. Her current areas of research are entitled Views of Women with Dissociative Identity Disorder on Intimate Partner Violence and Personality Profiles of Patients with Dissociative Identity Disorder. To read more about Briana's work, go here.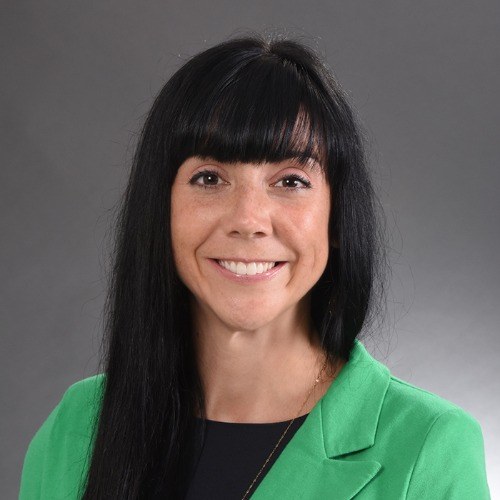 ---
Christy Loomis '04 is the Administrative Coordinator of infection control at MedStar Franklin Square Medical Center.
---
Lauren Waldt '06 graduated from the University of Baltimore Law School. In September, Lauren will begin her position as Judicial Law Clerk with the Executive Office of Immigration Review in the Department of Justice in Memphis, Tennessee.
---
Stephanie Travers Berke '07 has been promoted to Senior Corporate Brand Strategist at CareFirst BlueCross BlueShield.
---
Jill Parente White '07 has been promoted to Director of Behavioral Health at Healing Mind Wellness, LLC.
---
Maggie Marion '09 was featured in Varsity Sports Network's article entitled, "IND's Closing Shutters The Game." The article highlighted the history of the Mercy-IND Game. In her interview, Maggie stated, "It's not even just the rivalry but the community feel that the game had and what it meant to so many people. It brought two huge communities that were really passionate together at least for one night… It was really cool to see how many people cared about what was going on in that arena on a Friday night." To read the entire article, go here.
---
Tanesha Moody, MBA '11 is the Senior Manager of Global Internal Events at Under Armour. Tanesha also owns an event design and planning business, A Spoonful of Planning.

---
Kelly Rudolph '11 is a freelance lighting designer in New York City currently working toward her Masters of Fine Arts in Lighting Design at New York University, Tisch School of the Arts. Check out her website here.
---
Karley Ames '12, a staff member in Community Outreach at Advanced Radiology, worked with her father to create a GoFundMe account which raised over $12,000 to provide pizzas to those working on the front lines against COVID-19.

---
Nicole Hardesty '12 is an Employment Specialist for Itineris, Inc., which support adults with Autism Spectrum Disorder to build on the progress they made in the school systems, to further their journey toward greater independence and to increase acceptance by the community at large. Itineris provides customized opportunities for individuals with Autism Spectrum Disorder to obtain gainful employment and to participate meaningfully in all aspects of adult life. Nicole is certified as a Certified Employment Support Professional (CESP).
---
Taylor Villarreal '12 is the Communication and Change Management Analyst at Sinclair Broadcast Group Inc. She is pursuing her master's degree in communication management at Towson University.
---
Kirsten Barstad '13 is a Manufacturing Analyst at Northrop Grumman Corporation.
---
Lauren Davis '13 was interviewed by WBAL. Lauren is a licensed practical nurse at Sinai Lifebridge Health and shared her experiences on the front lines of COVID-19.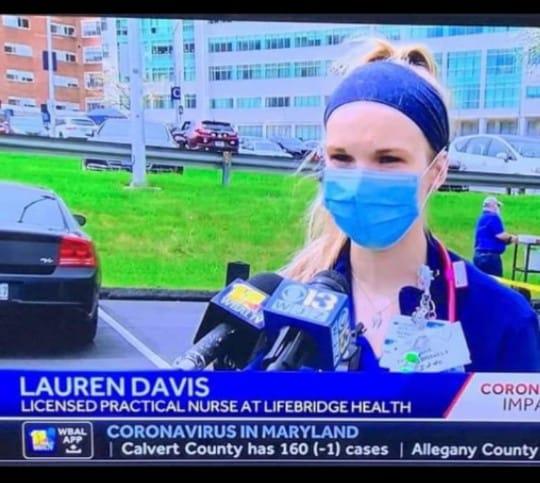 ---
Lauren Romagnano '13 graduated from Mary Baldwin University earning a Master of Letters in Shakespeare and Performance and a Master of Fine Arts In Shakespeare and Performance.
---
Julianna Boller '16, a forward on Salisbury University's Women's Soccer team, was named to Salisbury's Women's Soccer All-Decade team. During her time at Salisbury University, Julianna was named to the All-Centennial Athletic Conference (CAC) First Team twice (2018, 2019) and also to the NCAA Division III Women's Scholar All-Region Team (2019). During the 2019 season, she ranked second in the CAC in assists. During her career at Salisbury, Julianna collected seven game-winning goals, 88 career shots,55 shots on goal (62.5%), and 18 career goals - nine assists (seven in one season). Julianna is majoring in environmental studies and minoring in marketing management at Salisbury University. To read more about her career at Salisbury go here.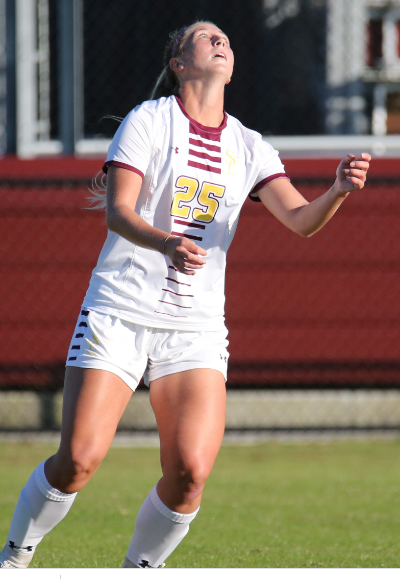 ---
Caroline Cummings '16 earned her bachelor of science degree in public health from Drexel University. Caroline graduated Magna Cum Laude from the School of Public Health. Caroline, a midfielder on the Drexel University Women's Lacrosse team, was honored with a virtual Senior Day ceremony on April 3rd. Head Coach, Jill Batcheller, said "Caroline is such a special person who leaves a big impression on you from the start. As an athlete, Caroline's work ethic and athleticism always led her to crush run tests, team competitions, matchups, and anything you can imagine. As a person, Caroline is someone that always has a smile on her face, shows how much she cares for this program, and has a positive attitude!" To read more about Caroline's career at Drexel, go here.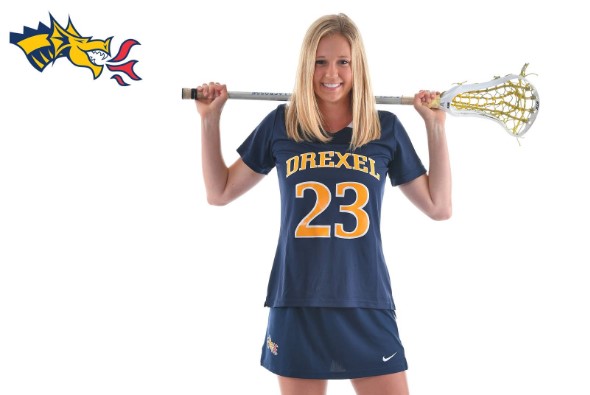 ---
Jordin Freeman '16 graduated as a a Dean's Scholar from Hofstra University. Jordin has earned her associate's degree from the Honors College, Hofstra University; a bachelor's degree in economics, Dongbei University of Finance and Economics; and a bachelor's degree in business administration, Zarb Business School, Hofstra University.
---
Julia Haigley '16 graduated summa cum laude from Salisbury University's Purdue School of Business, earning her bachelor's degree in marketing with a minor in communication arts. She maintained a 4.0 GPA overall and every semester of her college career. Based on her outstanding academic performance, Julia was also named the Outstanding Senior in Marketing by faculty in each department of the Purdue School of Business. While at Salisbury, Julia was a member of the Order of Omega, an undergraduate Greek society recognizing fraternity men and women who have achieved a high standard of leadership in inter-fraternity activities. She was also invited to join the honors societies of Phi Kappa Phi, which recognizes superior scholarship without restriction to an area of study, and Beta Gamma Sigma, a business honors society that highlights the top 10% of undergraduate students within the business school. Julia held multiple leadership positions, including new member educator, within her sorority, Alpha Sigma Tau, and she oversaw the success of Salisbury University's four Panhellenic sororities on campus as Panhellenic President. In addition, Julia co-authored a research paper entitled The Effects of Social Media on Women's Self Image found here.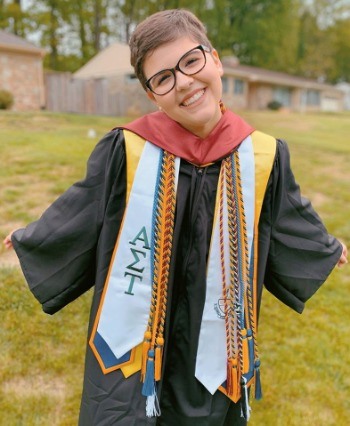 ---
Rebecca Hayes '16 has accepted a position at Lakeland Regional Medical Center (Lakeland, Florida) in their nurse residency program on an antepartum/postpartum/gynecological surgery unit.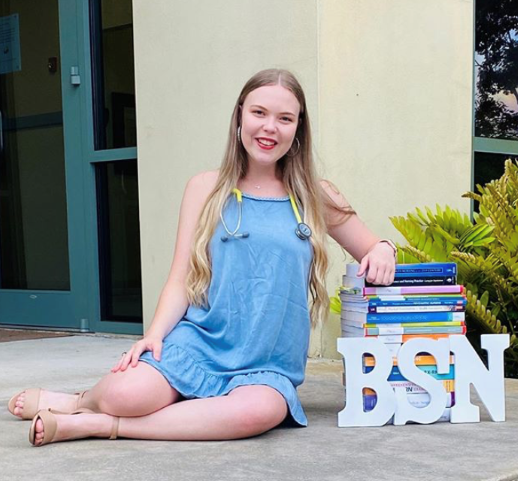 ---
Katie Hiedrick '16 earned her bachelor of arts degree in psychology and criminology and criminal justice from the University of Maryland, College Park.

---
Sammie Maygers '16 earned her bachelor of science degree in chemical engineering from the University of Maryland Baltimore County. Sammie, a Center for Women in Technology (CWIT) scholar, was recognized for her leadership in the program. While at UMBC, Sammie was also active in the Chem-E-Car team which builds and races vehicles powered by precise chemical reactions. She was also an active member of the Shazam Ultimate Frisbee, the American Institute of Chemical Engineers, the Society of Women Engineers. In addition to conducting undergraduate research, Sammie was a teaching fellow for a chemical engineering kinetics course. Of this experience, Sammie said, "Being a teaching fellow has given me the opportunity to support students academically and personally. The course load of a student taking this level of chemical engineering courses can really be overwhelming, and I love helping students realize that making mistakes and failing helps them grow as an engineer." Sammie will be pursuing a career as an engineer at the Naval Surface Warfare Center (NSWC) near Bethesda, Maryland. Sammie has also been honored as an Outstanding Senior in Chemical Engineering and nominated for Valedictorian at UMBC. To read more about Sammie and her experiences at UMBC, go here.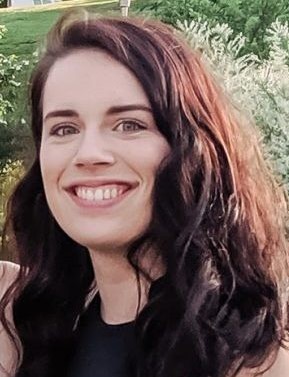 ---
Katrina Schmidt '16, a recent graduate of Georgetown University's School of Foreign Service who earned her bachelor of science degree in international politics, has accepted a summer position as Communications Specialist with the City of Baltimore's Mayor's Office of Homeless Services. She will be working with the newly-formed agency to develop its communications strategy as the team works to make homelessness in Baltimore rare and brief. According to Katrina, "Homelessness is a truly intersectional issue, and I hope to use our platform for community engagement, education and outreach."
---
Jill Scott '16, an anthropology and history major at the University of Maryland, College Park, has been elected president of the College Republicans there. In addition, she has been named to the Fall 2019 and Spring 2020 Dean's List at the University of Maryland. Jill has also written and presented her undergraduate ethnographic research and will be graduating in December 2020.

---
Taylor Sisk '16 is a member of the University of Tampa's Women's Lacrosse team. Taylor is an elementary education major, with a concentration in reading and English as a second language, and a Spanish minor. She was recently honored on the team's Facebook page where they wrote, "Sisk transferred to Tampa as a sophomore, the same year she was named to the Sunshine State Conference Commissioner's Honor Roll and earned the DII Athletic Directors Association Academic Achievement Award. In her junior campaign, she recorded a season-high of four saves on two occasions (once against Rollins and once against Palm Beach Atlantic). Sisk ties for tenth in the all-time record book for individual saves in 2019 and sixth in individual career save percentage (.386)." To read more about Taylor's career at the University of Tampa, go here.

---
Aly Stillinghagan '16 earned her bachelor of science degree in human services with a minor in legal studies from York College of Pennsylvania. Aly graduated summa cum laude. She is currently working for York Food Bank as a grant writer, earning the organization more than a half million dollars. Aly will be attending the University of Maryland School of Law in the fall.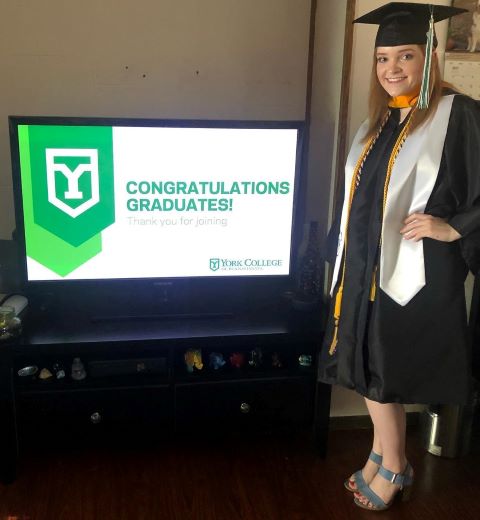 ---
Chrysoula Vasilakopoulos '16 earned her bachelor of science degree in nursing from George Mason University.

---
Najah Whitfield '16 is a senior member of the Women's Track and Field team at Bethune-Cookman University. To read more about Najah's career, go here.
---
Maegan Brown '18 is a rising junior at Coppin State University, majoring in nursing. During this pandemic, she recently became a patient coordinator for Labor and Delivery at Johns Hopkins Hospital.

---
Rachael Huebler '18, a junior Biology major at York College of Pennsylvania, has also been named to the Dean's List for the Spring 2020 semester. To be eligible for this honor, a student must be registered for at least 12 academic credit hours and earn a semester GPA of 3.50 or higher.

---
Riley Rumbley '18, an exercise science major and member of Towson University's Women's Soccer team, was featured by the Tiger Fund during Student Athlete Appreciation Month. In addition, Riley was nominated for the Strength and Conditioning Award at Towson University.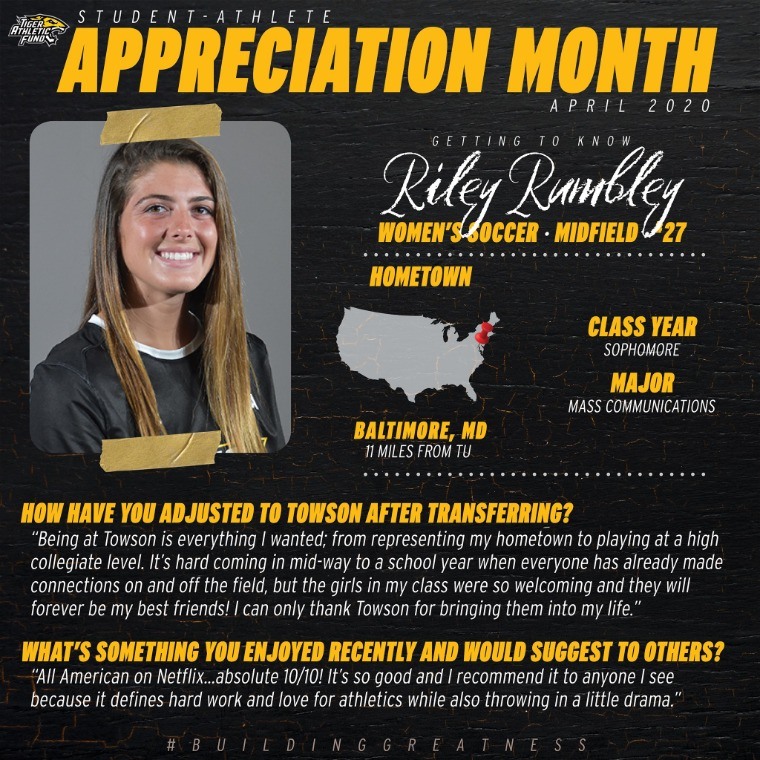 ---
Julia Walstrum '18 has transferred to Goucher College from Drexel University. She will continue to complete her bachelor's degree in dance this fall. Julia will also be pursuing a concentration in dance education with a minor in psychology. In addition, Julia is pursuing her Pilates Instructor Certification.

---
Carly Connell '19 has been named to the President's List for the 2019 fall semester at Elon University. The President's List is composed of students with no grade below an A-minus in a minimum of 12 semester hours.

---
Claire Corte '19 is a defender on the University of Lynchburg's Women's Lacrosse team. Claire has not yet declared a major but has a strong interest in criminology and philosophy in hopes of one day studying law. To read more about Claire, go here.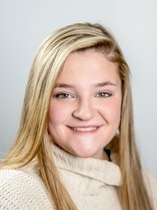 ---
Sydney Dye '19, a social work major, has been named to the Spring 2020 Dean's List at Elizabethtown College for earning a semester grade point average of 3.60 or better in 14 or more credit hours, of which at least 12 credits are letter-graded course work.
---
Abby Estrada '19 is a double major in Catholic theology and marriage and family studies with a minor in Spanish at DeSales University. In the fall, she hopes to continue working on campus at the Salesian Center for Faith and Culture. Recently, she has been selected to be a member of the Peer Advising Counseling and Educating (PACE) team at DeSales. This group of six students provide peer education programs that focus on alcohol, tobacco, violence, sexual health and safety, and justice issues. PACE mentors are specially trained and certified through the BACCHUS initiatives of NASPA, an international association of college and university-based peer education programs. Abby has also accepted a position on the executive board for the Pro-Life Club and is a soprano for the DeSales University Chorale and Schola Cantorum. Abby also plays intramural sports and volunteers with various Campus Ministry events at DeSales. Abby has also been named to the Spring 2020 Dean's List at DeSales University, earning a grade point average of 3.5 or above.
---
Savanna Foertsch '19, a biology major at Widener University, has been named to the Fall 2019 Dean's List for earning a grade point average of 3.50 and above for the semester.
---
Mary Huebler '19 is a rising sophomore at Elizabethtown College, majoring in secondary physics education, with a minor in coaching. Mary is a member of Elizabethtown's Madcow Improv club and intramural dodgeball team, as well as the Women's Golf team. In addition, she serves as the secretary for the Women in Engineering club. Mary was named to Alpha Lambda Delta, the national honor society for first year success and has also been named a Hager Scholar. Mary has also been named to the Spring 2020 Dean's List at Elizabethtown College for earning a semester grade point average of 3.60 or better in 14 or more credit hours, of which at least 12 credits are letter-graded course work
---
Maya Kempf-Harris '19, a student at Dartmouth College, is a reporter for The Dartmouth, America's oldest college newspaper. To read some of Maya's articles, go here.
---
Grace LaCount '19, a theater major on the acting track at Frostburg State University, was cast in the 2019 production of Scrooge in Rouge at Frostburg. Grace is the first from the left in the photo below.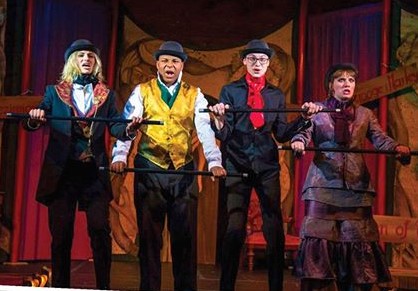 ---
Grace Mahan '19 completed her freshman year at the University of North Texas as a member of their Honors College with a 4.0, majoring in Psychology with a minor in Human Development and Family Studies. Grace is a member of UNT's Chapter of CHAARG, a community of girls that seek new workout experiences together and empower each other. She received The Voertman-Androin Memorial Scholarship in Liberal Arts from UNT and will become a member of the Psi Chi International Psychology Honors Society in the fall.
---
Kayleigh Maimone '19 is a rising sophomore at Washington College where she is a pre-medicine/biology major, with a minor in Spanish. Kayleigh works in the Washington College Admissions Office as a "George's General," providing virtual and in-person campus tours and tours of Chestertown, hosting overnight high school recruits, and helping to host chat sessions to answer the questions of potential students and their families. In the fall, Kayleigh will serve as a resident assistant for Harford Hall, a dormitory housing 84 second, third, and fourth year students. She has also been elected the Director of Series Events for Washington College's Student Events Board and will plan regularly occurring social events for students at the college as well as serve on the Executive Board of the Students Events Board. In addition, Kayleigh is a member of the Gamma Beta chapter of Zeta Tau Alpha sorority, a member of Fetching WAC (an organization that trains service dogs), a member of the Women's Rowing team, a Presidential Fellow, and a John S. Toll Science and Math Fellow.
---
Brooke Rahnis '19, a rising sophomore at Stevenson University, has been named to the Dean's List for outstanding academic achievement during the Fall 2019 semester.
---
Esther Shin '19 is a rising sophomore at Case Western Reserve University, where she is majoring in computer science. Esther was named to the Fall 2019 Dean's List at Case Western.
---
Ada Clare Tempert '19 was featured in Varsity Sports Network's article entitled, "IND's Closing Shutters The Game." The article highlighted the history of the Mercy-IND Game. Ada spoke of the rare opportunity The Game provided for young women. According to Ada, "Female athletes have a hard time getting exposure. The guys always get all the attention and people never really look at how hard women have worked within athletics within our education system. Both schools have worked so hard to get the attention for that game and now it's being taken away… People, especially on the men's side, don't even really recognize what is being lost in the Baltimore community. My heart hurts for the IND community, even though we're rivals, it was our community, our Catholic community. There can only be one winner, but at the end of the day, we're still one. It's kind of like we're losing half of our community. Now who's our rival? No one will ever hold that place that IND held for a Mercy student, a Mercy alum, or a middle school student going into Mercy." To read the full article, go here.
---
Destini Wheeler '19 is a rising sophomore at Howard University where she is majoring in psychology. Destini was named to the Spring 2020 Dean's List for maintaining a grade point average of at least 3.0, based on a minimum load of 14 credits for the semester. She is also a member of the psychology club and the photography club at Howard.