$150,000 Alumna Gift Transforms Student Spaces
The largest single philanthropic commitment to Mercy from an alumna.
Thanks to a leadership gift of $150,000 from Sara Reitz Folio '85 and her husband Rick, our physical education and Magic Athletics locker rooms are being transformed into modern, welcoming spaces for our Mercy Girls. Through their generous gift, the Folios have chosen to honor Sara's parents, Donald and Nancy Reitz and their four Mercy-educated daughters. Reflecting their deep Catholic faith and dedication to academic excellence, Dr. and Mrs. Reitz chose Mercy High School for Sara and her three sisters, Deborah Reitz Minogue '86, Beth Reitz Appleby '87, and Mary Reitz Lindauer '89, and Loyola Blakefield for their son, John Reitz.

The Folios' gift stands as the largest single philanthropic commitment to Mercy from an alumna and was inspired by Sara's wish that Mercy provide our students with facilities equal to those found at area boys' schools. We are thrilled that, in the next few weeks, The Reitz Family Locker Rooms will welcome our physical education students, student-athletes, and visiting teams.
This exciting effort is part of $350,000 in capital improvements on the Mercy campus this year to accommodate our growth, including our largest freshman class since the 2008-09 school year! Recent upgrades include the renovation of an art classroom and adjacent spaces, creation of faculty offices, and refurbishment of 550 student lockers. In the year ahead, there will be more exciting updates about the continuing renewal of our campus. In the meantime, please join me in sincere gratitude to Sara and Rick!
---
About Donald and Nancy Reitz P'85, '86, '87, '89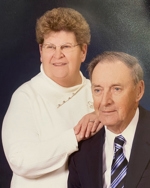 Throughout their lives, Dr. and Mrs. Reitz modeled active, faith-filled leadership. Dr. Reitz had a distinguished career as a professor of education at Loyola University Maryland. From 1976 until 1979, Dr. Reitz took a leave of absence from Loyola to serve as the first lay superintendent of Catholic schools in the Archdiocese of Baltimore. He passed away in 2017. Mrs. Reitz served as a pastoral associate at Saints Philip & James Church in Charles Village and Our Lady of Grace Church in Monkton, and as a member of the board of the Cathedral Foundation, publishers of the Catholic Review. Mother of five and grandmother of 13, Mrs. Reitz is active in her large family circle and in her parish.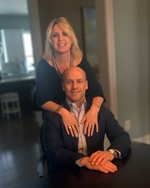 "We are thrilled to make this gift to an institution that we love. We are grateful to Sara's wonderful parents for the sacrifices they made to provide a Catholic education to their children, and it gives us great joy to honor them by helping to provide today's Mercy Girls with the environment and resources they need to achieve their dreams." - Sara Reitz Folio '85 and Rick Folio