New Principal Announced
Ms. Kathryn Adelsberger steps into new role as principal for Mercy's next exciting chapter.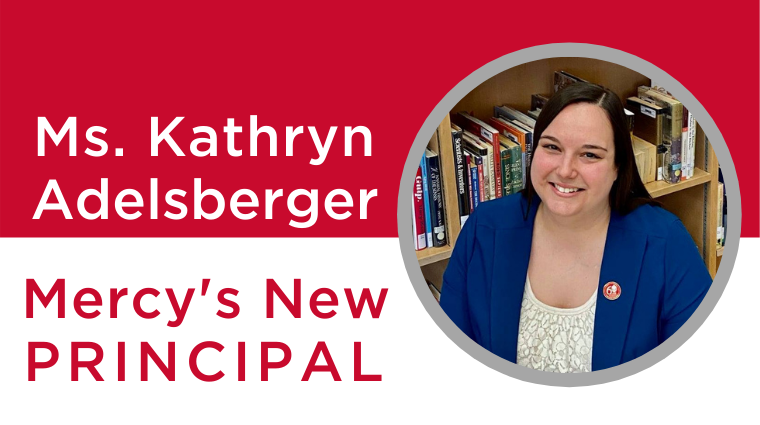 June 15, 2021
Dear Mercy community,
What a blessing it was to come together this past weekend to celebrate the Class of 2021's Baccalaureate Mass and Graduation Ceremony at the Cathedral of Mary Our Queen! Gathering together with graduates, families, faculty, staff and guests reminded us again of the special blessing that is our community.
Since last November, our dedicated Principal Search Committee, chaired by Tess Veloso '68, has been working to identify the next academic leader for Mercy High School. After a national search that included interviews with a broad range of constituents, I have appointed Kathryn Adelsberger principal of Mercy High School, effective July 1, 2021. In selecting Kathryn, I am confident that she will continue the standard of excellence and innovation established by Sister Michelle Carroll, RSM, founding principal of Mercy High School, and carried to this day by Principal Jeanne Blakeslee.
Class valedictorian at St. Vincent Pallotti High School in Laurel, Kathryn continued in the University Honors Program at Fordham University, Lincoln Center. From Fordham she received her Bachelor of Arts cum laude in history and her Master of Science in social studies teaching in grades 7-12, Phi Delta Kappa. She also studied French language and culture in Toulouse, France.
After working in public and independent school settings, Kathryn began as a teacher of social studies at Mercy in 2013. Over the last eight years, Kathryn has held a variety of leadership positions at Mercy, chairing the social studies department, coordinating our reaccreditation through the Association of Independent Maryland & DC Schools, and leading the institutional effort resulting in the authorization of Mercy as an International Baccalaureate World School in 2019. She has served as Freshman Class co-coordinator, and on our Academic Council, Academic Leadership Team, and Academic Diversity Team. A brilliant student and scholar, Kathryn has completed a Master of Education degree in educational leadership at Loyola University Maryland, and is in a doctoral program in educational leadership, policy and administration at Fordham.
At heart though, Kathryn is a gifted teacher and a compassionate mentor to girls. Her commitment to providing an environment and tools where Mercy Girls become the very best version of themselves stems from her own strong Catholic faith, formation by the Jesuits at Fordham, and deep understanding of Mercy values and the vision of Catherine McAuley that animate all we do at Mercy.
As we near the end of our 60th anniversary year, I am deeply grateful to God for the many gifts that He has bestowed upon the Mercy community. And, I look forward to working closely with Kathryn in the years ahead to sustain and strengthen our exceptional school.
In Mercy,

Mary Beth Lennon '85
President
---
Dear Mercy students, families, alumnae, colleagues, and friends,
I am honored to soon be serving as principal of Mercy High School, a place that I have called home for the past eight years. What makes Mercy so special is the balance we strike between tradition and innovation, inspired by Catherine McAuley who used this to her great advantage. One of my own favorite traditions is Mercy Day/Ring Day, which is celebrated by all Mercy institutions and reminds us that our Mercy mission is larger than just our school. The fact that our Ring Day is celebrated on Mercy Day binds our girls not only to their alma mater, but to their Mercy family around the world and reminds them of the legacy they are joining. Catherine's mission was to bring together women and girls of diverse backgrounds and circumstances so that they could learn from one another, helping to build a more peaceful and just society. That mission continues today at Mercy High School. That is why I entered education, and I am privileged to work at a school that aligns with my vocation.
As our Mercy Girls grow, it is with joy that we see them develop voice, try new things, and take pride in their authentic selves. The most important job of an educator is to prepare students for the future. As the future is ever evolving, we must therefore prepare students to think critically, to creatively solve problems, to persevere, and to value difference so that they can tackle whatever their futures hold. Animated by our Mercy, Catholic values, we must guide them to develop spiritually, inspire them to serve others, and help them to recognize that every person is unique, valuable, and made in the image of a loving God.
All transitions are hard, but most especially when we say goodbye to a beloved leader. Jeanne Blakeslee and all those before her took up the work begun by Catherine McAuley on Baggot Street in Dublin almost 190 years ago. I am humbled to follow in their footsteps and continue the mission and vision of the Sisters of Mercy. As we look forward to our 61st year at Mercy High School, we cannot forget the past that shaped us, nor the Mercy Girls, present and future, who need a community that not only builds upon existing strengths but continues to innovate in order to prepare them both academically and personally for a complex world. At the end of the day, it is about helping our Mercy Girls live a life full of meaning, balance, and joy. I look forward to partnering with our Mercy families to support them.
I hope that you will join me in praying that God continues to bless our school, Mercy Girls, alumnae, families, and friends. I pray that you feel His presence at your side as you live Mercy in the world.
Together in Mercy,

Kathryn Adelsberger
Incoming Principal