Goucher College President Is Keynote Speaker for Career Day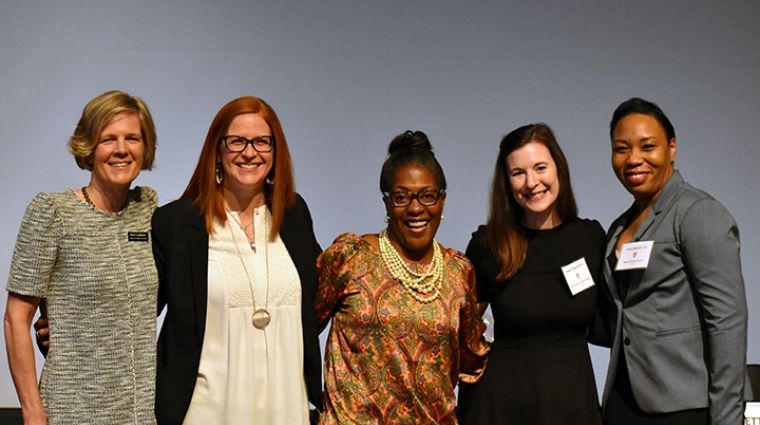 The halls of Mercy High School were overflowing with students, alumnae, and presenters on Friday, March 16, 2018, for our biannual Career Day. Kicking off the day was the keynote speaker, Goucher College President Dr. José Bowen whose message was about learning. Addressing the students, he said that the people who learn and the ones who do the work. And being smart means being willing to change your mind.
"Declare a mission, not a major" when in college, Dr. Bowen said, because the jobs that students will be doing haven't even been thought of yet.
Following Dr. Bowen was a panel of alumnae: Alyssia Koetter Essig '92 (realtor and president of the Greater Baltimore Board of Realtors), Erica Tucker Johnson '96 (Director of Digital Solutions at Visa, Inc.), Robin Pettiford '82 (Senior Employment Consultant, Workforce Development for Humanim), and Megan Radebaugh '01, Senior Associate and Project Manager for Gensler & Associates). All four women spoke about women's leadership and what it takes to be successful in the workforce.
After listening to inspiring words and stories, Mercy students then went to the career fair and classroom presentations. Students rotated by class through all the categories of professions. More than 100 alumnae, parents and friends were here to talk with the students.

Here are the photos from Career Day.