Mercy Shines in "The Sun"
Lynne Spigelmire Viti '65 writes letter to the editor of The Baltimore Sun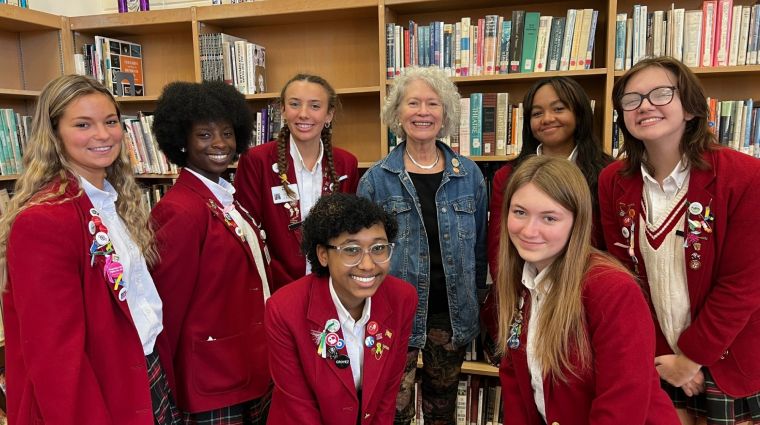 After a recent visit to Mercy, Lynne Spigelmire Viti '65 felt inspired to share her experience, so she scribed a letter to the editor of The Baltimore Sun.
We had welcomed Ms. Viti, senior lecturer emerita in the Writing Program at Wellesley College, for a poetry reading from her most recent book, The Walk to Cefalu. AP Language and Literature students; members of The Shield, our student newspaper; and members of The Lance, our literary magazine, joined us for this special program. Ms. Viti, an accomplished, award-winning author, discussed her creative process and answered questions from Mercy students.
Read her letter to the editor of The Baltimore Sun:
Readers Respond
November 14, 2022
Last week, I traveled from my home south of Boston to Baltimore by train to visit my alma mater, Mercy High School. I was there to give a poetry reading. This wasn't my first time sharing my work with a large group of Mercy girls, but this time, the day far outstripped my expectations. I had lunch with a dozen students, principal Kathryn Adelsberger and librarian John Breitmeyer, and several faculty and staff. Introductions by each student demonstrated the wide spectrum of academic interests and activities each young woman was consumed by—track, Model Diplomats, theater, prom committee, social justice, science, dance. I had questions for each of them—what they hoped to study in college, what professions they were considering. Then it was their turn to question me.
And wow, were they well prepared, having read and studied more than a few poems from my recently published book. A lively back and forth about writing, writing poetry, my own trajectory from Mercy through college, law school, teaching—and the inevitable question that my own students frequently asked without fail—how to achieve work/life balance. When to have children. How to squeeze writing into a busy life. And my answer at Mercy last week was, as it always is—sometimes there's no room at all. (See "Midpoint/Midlife," in my new collection, The Walk to Cefalù.)
The conversation was so lively and absorbing that I only had one bite of my tuna fish sandwich. Who needs to eat when the topic of poetry is on the table?
The main event was an hour of poetry before rows of students—a reading, a Q & A with still more questions about writing and about specific poems they'd read in their AP English classes, a sit-down with editors from the Lance, the literary magazine, and the Shield, the school newspaper (of which I proudly served as a reporter and then an editor, during my Mercy years)
I have read before many audiences, in bookstores, schools, at senior centers, in libraries-- and have been fortunate to have very engaged, reactive listeners. But this group was the most prepared, the most engaged, the most inquisitive, that I've ever experienced. There is nothing quite like reading one's poetry to a room of fifty students and hearing so many cool finger snaps of appreciation. There is nothing quite like returning to one's old school, where reading, deconstructing and writing about Shakespeare, Hopkins, Frost, Eliot, Whitman—first opened up the world of language harnessed to communicate meaning, emotion, hope, despair, loss, triumph. And there is nothing like having young people respond to one's own work with such curiosity, enthusiasm, and …love.
Thomas Wolfe was wrong—you can go home again. I did, last week in Baltimore, and I'm still on an endorphin high, a week later.