Mercy hosts Career Day 2023
Thank you to our speakers, panelists, alumnae, parents, and friends of Mercy!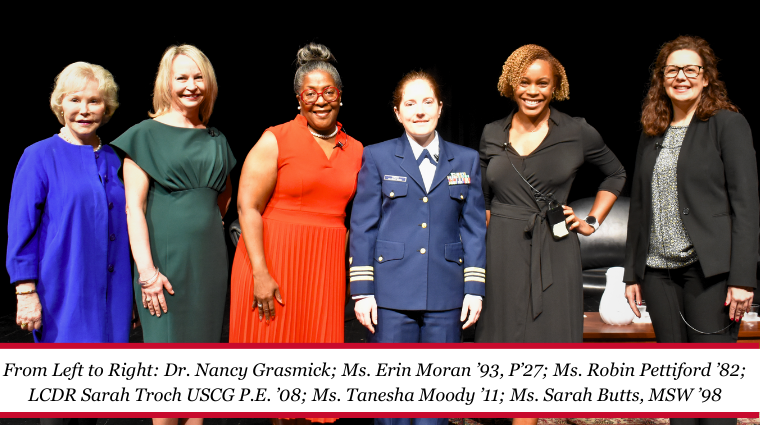 For the first time since the pandemic, our Mercy Girls enjoyed a wonderful Mercy tradition, Career Day! We invite you to view event photos by visiting our Flickr page! The day began with our keynote speakers, Dr. Nancy Grasmick and her colleague, Ms. Erin Moran '93, P'27.
Dr. Nancy Grasmick served as a classroom and resource teacher, principal, supervisor, assistant superintendent, and associate superintendent in Baltimore County Public Schools She later became the state's first female superintendent of the Maryland Department of Education, a position she held for 20 years until her retirement. Under Dr. Grasmick's leadership, Maryland schools were propelled to number one in the nation. In addition to other awards, Dr. Grasmick became Towson University's first presidential scholar and, in 2016, she was inducted as an honoree into the Baltimore Sun's Business and Civic Leader Hall of Fame. Dr. Grasmick is also founder of The Dr. Nancy Grasmick Leadership Institute which offers a values-driven and robust portfolio of offerings for individuals and organizations that create transformational outcomes for leaders at any level in their careers and across all industries. The Institute, developed by leaders and for leaders, aspires to positively impact the region and beyond through results-producing and ethical leadership development.
Ms. Erin Moran '93, P'27 serves as the executive director of the Dr. Nancy Grasmick Leadership Institute after spending nearly a decade with Great Place to Work where she helped produce the "Fortune 100 Best Companies to Work For" list and advised clients on improving their cultures. Ms. Moran was also the chief culture officer for New York City-based Union Square Hospitality Group for seven years, where she was responsible for overseeing and enhancing all aspects of the employee experience. Ms. Moran was named as one of the Top women in New York Foodservice & Hospitality (2018), one of the Top 50 Women Innovators in the Restaurant Industry (2019), and is a two-time honoree on the Power List of Culture Champions (2017 and 2019).
After our sharing about their journey to leadership, qualities of aspiring leaders, and the responsibility associated with leadership, our Mercy Girls also enjoyed hearing from some of their sisters, Ms. Sarah Butts, MSW '98, Ms. Tanesha Moody '11, Ms. Robin Pettiford '82, and LCDR Sarah Troch USCG P.E. '08, who joined us for a panel discussion. Our panelists spoke more about their educational experiences and careers while providing valuable advice for our Mercy Girls.
Later in the morning, our students visited with more than 150 alumnae, parents, and friends of Mercy to explore the paths available in many different fields as they prepare for college and beyond! Many thanks to all our visitors for making today so memorable and impactful for our Mercy Girls!
-----
Panelist Bios

Sarah Butts, MSW '98 is director of public policy at the National Association of Social Workers (NASW) headquarters in Washington, D.C. Prior to joining NASW, she served as the Executive Director of Grand Challenges for Social Work and Social Welfare at the University of Maryland School of Social Work. Ms. Butts started her career in public child welfare and has held direct service and administrative roles at Maryland's Department of Human Services and the Family League of Baltimore. She is a graduate of the Title IBE-E Education for Public Child Welfare Program. She is co-chair of NASW's Licensure Task Force and a member of the board of the Congressional Research Institute for Social Work and Policy and the Mental Health Liaison Group. She serves on the leadership board of Grand Challenges for Social Work and is a member of the national steering committee and advisor to the International Transformational Resilience Coalition. She earned her BSW degree at University of Maryland, Baltimore County and MSW degree from University of Maryland, Baltimore.
Tanesha Moody '11 currently serves as director of strategic events with Salesforce, creating activations at some of the largest global events within the tech industry. Before Salesforce, Ms. Moody was successful at creating industry leading events while managing, leading, and helping to develop hundreds of individuals at different stages of their careers at companies such as Disney, Marriott, and Under Armour. For her success, she was recognized in 2021 as one of Bizbash's Top 500 Most Influential Event Professionals. As a 2011 graduate of Mercy, Ms. Moody is proud of her involvement in Dance Troupe, Footlighters, and student leadership positions. She earned her BFA in theatre and stage management from University of Central Florida, followed by her MBA in hospitality management and human services from Lynn University.
Robin Pettiford '82 has a wealth of experience in talent acquisition, and is involved in a variety of workforce development initiatives. She is currently assistant director, business support for Johns Hopkins Intrastaff, which is responsible for meeting the temporary staffing needs of the Johns Hopkins Health System. Prior to Hopkins, during her tenure at Humanim, Ms. Pettiford successfully placed more than 135 Baltimore City residents in jobs at Baltimore anchor institutions such as Towson University, University of Maryland Baltimore, the University of Maryland Faculty Physicians, and Johns Hopkins Health System and University. She was inducted into Humanim's i25 Class of 2019, honoring her outstanding performance and dedication, forwarding the organization's mission. After graduating from Mercy, she earned a Bachelor of Science degree in mass communication from Towson University followed by certification in Diversity, Equity & Inclusion from University of South Florida.
LCDR Sarah Troch '08 graduated from the United States Coast Guard Academy in 2012 earning a Bachelor of Science in mechanical engineerings. Upon graduation, LCDR Troch was commissioned as an ensign in the United States Coast Guard and assigned to Coast Guard Cutter STRATTON in Alameda, California as an engineering division officer. In 2016, she earned her Master of Science in mechanical engineering from University of Maryland, College Park. LCDR Troch was then assigned as a port engineer at the Coast Guard Yard in Baltimore, Maryland for four years where she was responsible for planning and overseeing ship repair projects for Coast Guard ships at shipyards throughout the East Coast. During her tenure, LCDR Troch oversaw more than 35 projects. Sine then, she has serves an an engineering department head and senior engineer, managing 25 crew members. In 2022, she was promoted to Lieutenant Commander, serving as a project manager developing logistic support for the Coast Guard's newest cutter, which is under construction. She and her team manage the required maintenance, parts, and technical information to operate the cutter once it is built.