Mercy becomes Candidate School for International Baccalaureate Diploma Programme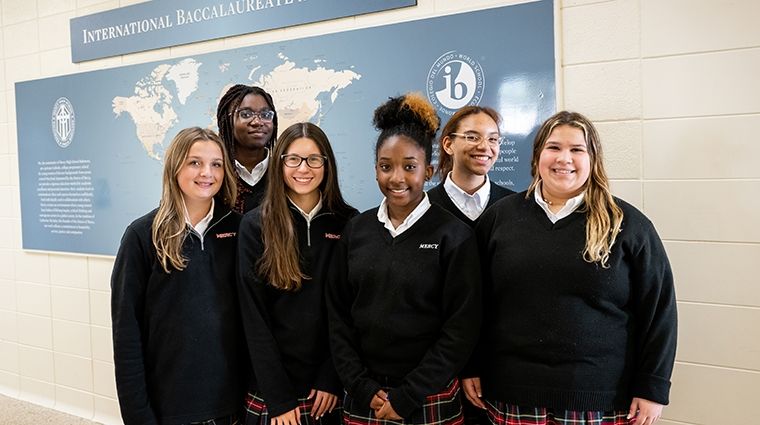 Mercy High School is now a Candidate School* for the International Baccalaureate Diploma Programme (DP), a two-year curriculum that prepares students for success in the top colleges and universities internationally. Mercy is already an International Baccalaureate (IB) World School, offering the Middle Years Programme, and has chosen to pursue authorization for the DP to round out its IB offerings.
The process of becoming a DP school takes about two years, so Mercy anticipates that freshmen entering in the fall will be the first to be able to take DP courses as juniors. In the United States, the DP is offered in grades 11 and 12.
Mercy is the only all-girls Catholic school in Baltimore to offer the prestigious IB Programme. Widely considered the world's premier academic curriculum, the IB is the perfect fit with Mercy High School's educational philosophy of excellence. Student inquiry, intellectual risk-taking, and international mindedness permeate Mercy's classrooms and ensure Mercy students are well-prepared for college and beyond. The IB Diploma Programme will further distinguish Mercy graduates for college consideration because it is globally recognized by top colleges and universities as one of the best available education programs for highly motivated, high-achieving students.
Kathryn Adelsberger, principal, notes, "We are thrilled to become a Candidate School for the Diploma Programme. The DP is an excellent capstone to our Middle Years Programme and will offer Mercy students even more options for rigorous and internationally-minded courses. The IB aligns with Mercy's core values of educational courage, dignity and respect, and principled leadership, and we look forward to expanding the impact the IB will have on our Mercy Girls."
The DP prepares students to become creative problem-solvers and lifelong independent thinkers, equipped to succeed in a rapidly changing and increasingly global society. The DP offers a holistic approach to teaching and learning with a keen focus on developing intercultural awareness. Students learn to explore and understand the world around them through inquiry, critical thinking, and open-mindedness.
---
*Only schools authorized by the IB Organization can offer any of its four academic programs: the Primary Years Programme (PYP), the Middle Years Programme (MYP), the Diploma Programme (DP), or the Career-related Programme (CP). Candidate status gives no guarantee that authorization will be granted. For further information about the IB and its programs, visit www.ibo.org