Maura Ford '15 Receives Prestigious Fulbright Scholarship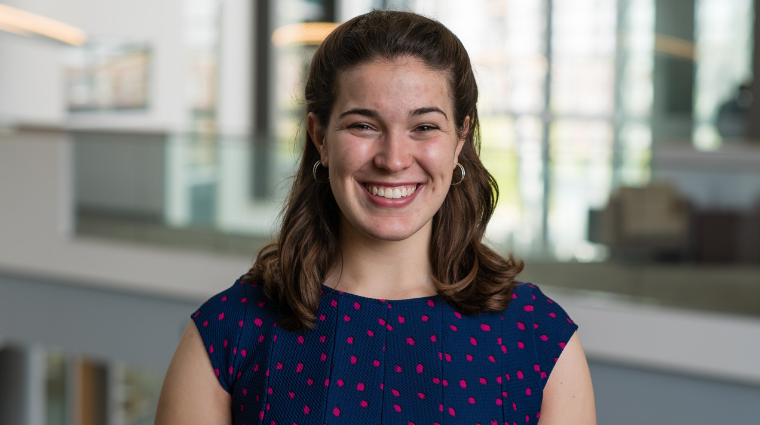 One of our exceptional graduates, Maura Ford '15, a senior at LaSalle University in Philadelphia, has received a prestigious Fulbright Scholarship to teach and study in Mexico next year. Maura will serve as an English teaching assistant and volunteer in an immigration agency. Maura follows Dorothy Smith Ohl '05 as the most recent Mercy graduate to receive a Fulbright Scholarship. In 2009, Dorothy was selected as a Fulbright Scholar for a year of research and language study in Oman, Jordan.
Read the full announcement of Maura's award by LaSalle University.
Maura, a graduate of Immaculate Heart of Mary School in Towson, distinguished herself at Mercy as an excellent student and an active campus leader. A scholar in our Catherine McAuley Honors Program, Maura took a most rigorous academic program that reflected her broad interests across many disciplines. Among her many activities at Mercy, she was a member of the National Honor Society, vice president of Footlighters, vice president of the Environmental Awareness Club, a member of her class steering committee, and editor of The Lance literary magazine. As a student at IHM and Mercy, Maura received the prestigious Carson Scholarship a total of five times. Maura's many awards as a graduating senior included the Sister Mary Cleophas Costello, RSM Award for Excellence in Writing and the Catherine McAuley Award for General Excellence in Academics and School-Wide Activities. Maura is also sister to Noelle Ford '11, and cousin to Kelly Ryan '05 and Molly Ryan '11.
Maura's commitment to building a just and peaceful world is longstanding. She received numerous scholarships from the universities to which she applied, including LaSalle's Christian Brothers Scholarship. Inspired by a visiting priest from Cameroon, Maura raised money to meet an immediate need: a new school. After Maura's cousin was born with a cleft lip, she raised funds for a child to have a cleft lip repaired in Djibouti. For Maura, her "community" extends far beyond Baltimore. While at Mercy, Maura was acutely aware of the great need in her city and so was a member and leader of the McAuley Service Club and a loyal volunteer at Our Daily Bread, a Catholic Charities agency in Baltimore City that serves meals and offers employment training to those in need.
Congratulations, Maura, on this tremendous accomplishment! We are so proud of you bringing your Mercy values to the community in which you will serve in Mexico.