Dean of Students Mary Ella Marion to Retire in June
Read a special statement from the Office of the President.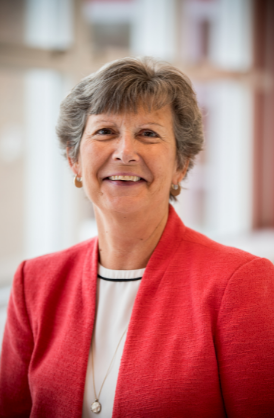 Dear students, families, alumnae, Sisters of Mercy, and friends,
With deepest gratitude, I write to share that Dean of Students Mary Ella Franz Marion '76, P'09 will be retiring at the conclusion of this academic year. She does so with a great desire to spend more time with her husband Rich and their family, who have been partners in her career at Mercy.
Catherine McAuley, foundress of the Sisters of Mercy, wrote, "We should be shining lamps, giving light to all around us." As an exemplary student leader, standout athlete, dedicated coach, caring teacher, energetic dean, and—her favorite role—Mercy mom to Maggie '09, Mary Ella has given light to the Mercy community for half a century.
Mary Ella's love of Mercy began as a freshman in 1972. A three-sport athlete, Field Day captain, and Student Council leader, Mary Ella won Mercy's coveted Flame Award four times. After graduating from Mercy in 1976, Mary Ella went on to play volleyball and basketball at what was then Loyola College, entering their Hall of Fame in 1990. Since 1982, Mary Ella has been a member of the Mercy faculty as a coach, adviser, physical education teacher, department chair, athletic director, and for the past eight years, dean of students. In 2003, Mary Ella was honored for her teaching excellence with Mercy's Ann Heckwolf Award; in 2007, she received our McAuley Outstanding Alumna Award. Becoming a Mercy Associate in 2016, Mary Ella signaled in a special way her commitment to the Mercy charism and the Sisters of Mercy.
At the heart of Mary Ella's work has been her belief in the incredible potential of girls as leaders to build a better world. Her leadership as dean of students, which included the establishment of Mercy's Honor Board, and her service as chair of our COVID-19 Response Team have graced nearly every aspect of life at Mercy. In the broader community, Mary Ella's dedication to opening athletic opportunities for girls has impacted thousands of students. Instrumental in the 1999 establishment of the Interscholastic Athletic Association of Maryland, she served as its president from 2002 until 2007. As Mercy's varsity basketball coach, Mary Ella has earned an impressive 411 wins.
While it is hard to imagine daily life at Mercy next year without Mary Ella's warm and vibrant presence, I am confident that the search process will yield a robust pool of applicants eager to continue her excellent and impactful work. We look forward to engaging a broad cross-section of the Mercy community in our search. In the meantime, should you wish to nominate a candidate to serve as our next dean of students, please email search@mercyhighschool.com.
In the months ahead, we will celebrate Mary Ella and her selfless gifts of leadership, spirit, dedication, and love for our community. Stay tuned for our plans to do this! In the meantime, please join me in sincerely thanking Mary Ella for the gift that she is and will always be to our Mercy community.
Sincerely,
Mary Beth Lennon '85
President