2021 Commencement Speaker Announced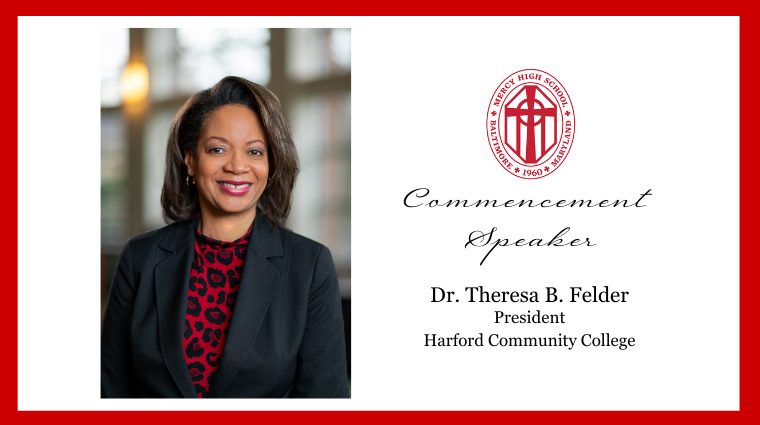 Dr. Theresa B. Felder, the newly appointed tenth president of Harford Community College. Dr. Felder is an innovative academic leader whose leadership in higher education has broadened opportunities for thousands of aspiring college students.

A first-generation college student, Dr. Felder credits much of her own academic achievement to her parents. Her father, who served in the U.S. Army, and her mother, who worked nights as a nurse's aide, gave their four children a strong work ethic and deep religious faith.
Graduating from Syracuse University with a Bachelor of Science in accounting, Dr. Felder discovered her passion for educational leadership after a career in corporate accounting. She went on to earn a Master of Science in administration from Central Michigan University and a doctoral degree in higher education leadership from Northeastern University.
Dr. Felder served for 17 years at Clark State Community College in Springfield, Ohio, where most recently she was the Senior Vice President for Student Success. In 2019-2020, she completed the Aspen Institute's prestigious Rising Presidential Fellowship. Last October, Harford Community College's Board of Trustees appointed Dr. Felder the institution's 10th president. She is the first Black leader to hold this role.
Having relocated to Maryland in January, Dr. Felder and her husband, Greg, a healthcare executive, are thrilled to now live closer to their son, Gregory, who works at the World Bank in Washington, D.C. Their daughter, Taylor, will be a senior at Butler University in Indiana this fall.
Deeply focused on student success, Dr. Felder is a compassionate and committed leader. I know that when we gather at the Cathedral of Mary Our Queen this Saturday, Dr. Felder's commencement address—one of her first public engagements in Baltimore—will inspire our graduates and their families on a very special day indeed.
Catherine McAuley, the foundress of the Sisters of Mercy, wrote that "A good beginning is of great importance." We are proud to welcome Dr. Felder in her new role, and we look forward to her remarks as we celebrate together the exciting new beginnings ahead for our extraordinary Class of 2021.