Breaking Ground on our new Mary Anne Heckwolf '66 Field!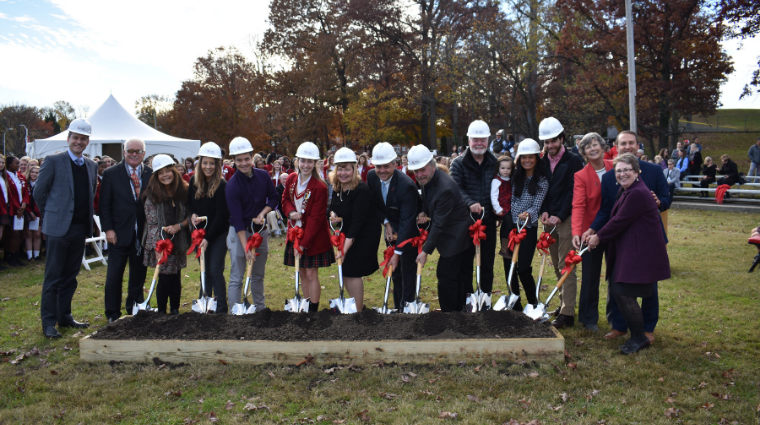 On November 8th, 2018, we were blessed with glorious sunshine and the warmth of our community gathering for the groundbreaking ceremony of the Mary Anne Heckwolf '66 Softball Field. Beginning Phase One of Mercy's new Athletics Complex to "Level the Playing Field" ensures a new home will be ready for Magic Softball in spring 2019. And, it is another tangible sign of the momentum of Mercy Moving Forward.
Joining our school community were the project team from Lewis Contractors, JMT Architecture, and Century Engineering, and members of the Heckwolf family, whose generosity has made this field possible in honor of their ultimate Mercy Girl, Mary Anne Heckwolf '66. Mary Anne's brother, Len Heckwolf, shared poignant stories of Mary Anne's years as a student at Mercy, as well as the many reasons why Mercy remained so dear to her throughout her life.
The ceremony was especially meaningful for Mary Anne's Mercy sisters from the Class of 1966 who were able to join us for the ceremony, including Sister Sue Bender Weetenkamp, RSM, Mary-Ruth Yannuzzi Chapin, Gloria Zajak Lang, Kitty Yanson and Kathy McNaney Younkin.
We could not have been more proud of the three Mercy seniors, Marissa Lesko, Leah Williams, and Abby Estrada, who helped lift our prayers of thanks to God through word and song during the ceremony, and who represented their fellow students who are eagerly awaiting the completion of their new Athletics Complex.
Thank you to all who attended the ceremony in person, or who are cheering us on from afar, including Mary Anne's beloved family, past and present trustees, sports enthusiasts, current families, and long-time friends, alumnae and supporters of Mercy.
We now look ahead to Phase Two of the Athletics Complex: the artificial turf lacrosse/field hockey/soccer field. We are working quickly to raise the funds for a field that matches our athletes' skill and dedication. Just this month, we were thrilled to receive a grant of $125,000 from The Marion I. & Henry J. Knott Foundation. Many thanks to the Knott Foundation and to all who have stepped forward to support this exciting effort!