Ashley Kowalski '07 shares SIRIUS-21 journey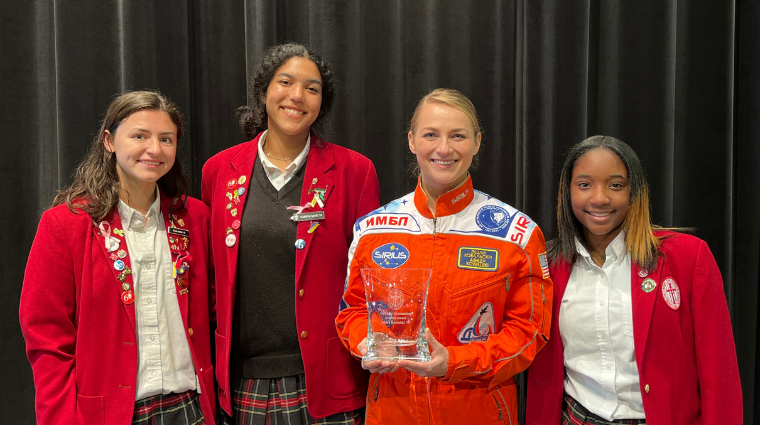 Mercy High School proudly welcomed Ashley Kowalski '07 to speak with our students about her experiences as a SIRIUS-21 crew member. In 2021, Ashley traveled to Moscow, Russia where she lived in isolation with other crew members while NASA researchers studied their health, physiology, and interactions to benefit future spaceflight missions. She was recently highlighted in the March issue of The Catholic Review.
During Ashley's inspirational speech, our Mercy Girls learned more about the SIRIUS-21 mission such as the types of data NASA researchers obtained, living conditions, and Ashley's future goals, which include space travel. She also spoke about returning from isolation and how she and other members of the crew learned of Russia's invasion of Ukraine while she was living in country. Since completing the SIRIUS-21 mission, Ashley served as the crew engineer in a space simulation at the Mars Desert Research Station in Utah.
Earlier this year, Ashley was honored with The McAuley Outstanding Alumna Award which recognizes an alumna who shows that the values, spirit, and integrity learned at Mercy are held, maintained, and expanded throughout a woman's lifetime. These are qualities usually attributed to Catherine McAuley, founder of the Sisters of Mercy. Ashley was unable to attend the ceremony due to professional obligations, and was presented with her award while on campus.
Ashley also spoke with our Mercy Girls during a brief question and answer session. In addition to learning more about Ashley's missions, our students raised important questions about working in typically male-dominated fields. Ashley also shared her reflections about her time at Mercy noting the support she received from our faculty and staff as a student and as an alumna, as well as the rigorous academic experiences that helped shape her career path.
Read more about Ashley here and be sure to check out more photos of today's event!