2023 Commencement Speaker Announced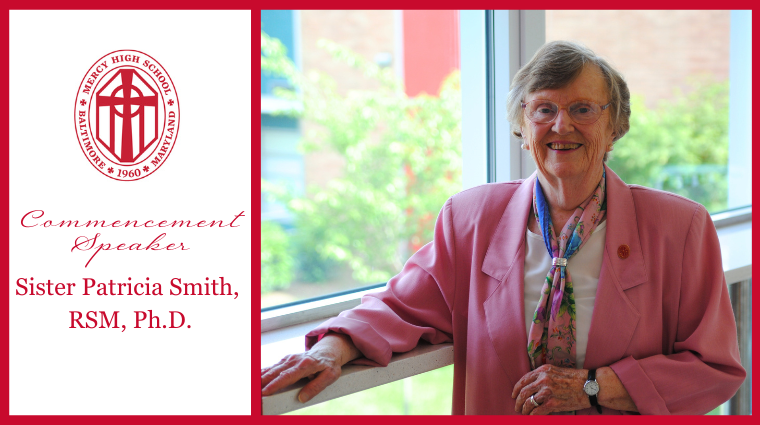 Sister Patricia A. Smith, RSM, Ph.D., respected theologian, visionary leader, and beloved teacher, will speak at Mercy High School's 60th commencement exercises at the Cathedral of Mary Our Queen on Friday, June 2, 2023. Previous distinguished speakers have included Dr. Theresa Felder, president of Harford Community College; Ms. Mary Ann Scully, dean of the Sellinger School of Business at Loyola University Maryland and former president and CEO, Howard Bank; and the Honorable Carol E. Smith '64, retired associate judge, Baltimore City Circuit Court and Sister Pat's own sister.
Since entering the Sisters of Mercy in 1956, Sister Pat's influence and efforts have made the Mercy charism real in every ministry where she has served. Her service to Mercy High School since first joining our faculty in 1962 has included many roles over more than 60 years! She first served as a trustee from 1987 to 1994. Nearly two decades later, she responded to the needs of Mercy and graciously led the presidential search committee that resulted in the appointment of Mary Beth Lennon '85 as president. She chaired the Board of Trustees with great grace, energy, and vision from 2014 to 2018, and continued as a board member until just two years ago. Under her leadership as board chair, Mercy High School launched Mercy Moving Forward, a transformational strategic plan that brought the prestigious International Baccalaureate Programme to Mercy High School and culminated in the construction of the $4.7 million state-of-the-art Sisters of Mercy Athletic Complex. For her outstanding service to Mercy High School, Sister Pat received an Archdiocese of Baltimore Medal of Honor in 2018.
Sister Pat's many other leadership roles have included serving as vice president of the Sisters of Mercy, Baltimore and assistant to the president for theology, mission, and ethics at Mercy Medical Center. She has also served as a board member for several of our sister ministries including Marian House, Stella Maris, Mercy Health Services, and Sisters Academy of Baltimore.
Among her numerous academic appointments, Sister Pat has been a visiting scholar at Yale Divinity School and a professor at Mount Saint Agnes College, Loyola University Maryland, and St. Mary's Seminary & University in Baltimore, where she made history as the first woman appointed as academic dean. She also served on the executive committee of the National Catholic Education Association.
A 1962 graduate of Mount Saint Agnes College, Sister Pat earned her B.A. in Latin education, her M.A. in theology from the University of San Francisco, and her Ph.D. in theology from the University of St. Michael's College, Toronto. Sister Pat has published numerous articles and is the author of Teaching Sacraments. Her academic journey continues as she studies the formation of scriptures, women in scripture, the gospels, sacramental theology, and Mariology.
As a young teacher at Mercy, Sister Pat composed the lyrics to our inspiring alma mater. As a thoughtful leader of our Board of Trustees, Sister Pat helped bring Mercy High School to a new level of strength and recognition. It is an honor to welcome her as our commencement speaker on the 60th anniversary of her appointment to the Mercy faculty. We look forward to the wise words Sister Pat will share with the Class of 2023 as they take an important next step in their journey to becoming Women of Mercy!