2020 Alumnae Awards Announced
---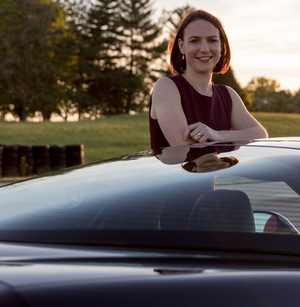 Laura Wontrop Klauser '04 is this year's recipient of the McAuley Award to an Outstanding Alumna. Laura is a graduate of Rensselaer Polytechnic Institute, where she earned her bachelor of science degree in mechanical engineering. She also holds a master of science degree in global automotive and manufacturing engineering from the University of Michigan. As General Motors' Cadillac Racing programs manager, Laura manages the development and support of Cadillac Racing programs including the DPi-V.R, currently racing in IMSA Weathertech, and the ATS-V.R, retired from Pirelli World Challenge in 2017.
Since 2018, Laura has also served as the Society of Automotive Engineers (SAE), Detroit Section Chair, where in 2012, she was recognized as the Outstanding Younger Member. Last year, Laura was named a member of the Society of Automotive Engineers International Top Contributor Class, comprising the top 50 volunteers globally. Laura was also a featured panelist at Girls Learning Engineering and Mentoring (GLEAM) Panel Discussion, which focused on networking and mentoring across topics that are of interest to women in Science, Technology, Engineering, and Math (STEM) professions. The discussion aimed to engage, educate, and empower students on the facts and issues regarding gender diversity in STEM, and provided an opportunity to hear personal experiences from women professionals in the automotive industry.
Laura continues to engage actively with the Mercy community, sharing her passion for STEM. She has shared her expertise with our Mercy Girls as a Career Day panelist, and frequently invites Mercy students to participate in SAE events, most recently a GLEAM panel discussion. Laura is also dedicated to giving back to current Mercy Girls by supporting The Fund for Mercy High School and The Sister Mary Anne Smith Endowed Scholarship. In order to help give Mercy Girls an unparalleled high school STEM experience, Laura also supported the renovation of the Dorothy Williams Bunting Science Center at Mercy.
Despite living in Michigan, Laura enjoys catching up with her classmates from the Class of 2004 via social media and during informal get-togethers on her visits to Maryland.
---
Kia Myrick McDaniel '95, Ed.D. is this year's recipient of the Sr. M. Joannes Clifford, RSM Award to a Distinguished Alumna. Kia is the director of curriculum and instruction for the Prince George's County Public Schools. She is also an educational consultant who specializes in English for Speakers of Other Languages. Additionally, Kia serves as a guest lecturer at the University of Maryland and an adjunct professor at Trinity Washington University.
Kia earned her undergraduate degree from the University of Maryland, College Park, and her master's degree in curriculum and instruction and bilingual special education from The George Washington University. In 2019, Kia earned her doctorate in education specializing in educational leadership and culturally responsive special education from Bowie State University, focusing her dissertation on paraeducators' roles and responsibilities in supporting English learners with disabilities. As a doctoral student, Kia was awarded the 2015 OSEP Culturally Responsive Educational Leaders in Special Education (CRELSE) Grant which provided full funding for her doctoral program. Kia's expertise in teaching culturally and linguistically diverse populations and her extensive training and experience in K-12 administration is well recognized within the field of education. Kia is a frequent presenter at education conferences and has written numerous articles sharing her passion for educating diverse learners.
Kia is one of three Myrick sisters to attend Mercy--Kia, her sister, Kashele Myrick Armstead '98, and Kashele's twin Kim Myrick '98+, whom we remember at our yearly Alumnae Memorial Liturgy. Since graduating from Mercy, Kia maintains strong connections with her classmates through her attendance at each of her reunions. Over the next few months, Kia is generously sharing her significant professional educational expertise with Mercy High School as a member of the search committee for our next principal.
---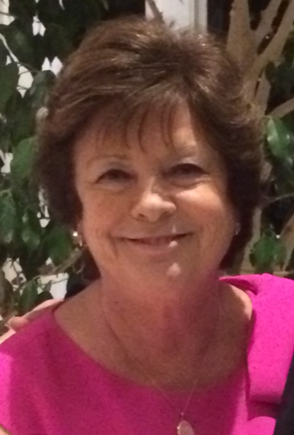 Mary Agnes Myers Votta '68, P'10, a founding member of the Sr. Michelle Carroll Society, is this year's recipient of the Spirit of Mercy Alumna Service Award. Mary Agnes has long been an active supporter of Mercy, but that relationship was solidified when her daughter, Jess Votta Stehman, PA-C '10 began her freshman year as a Mercy Girl. Mary Agnes recalls, "I received a phone call from Sr. Mary Anne Smith, RSM asking if I might be available to volunteer in the Alumnae Office to help with a little project. All these years and many 'little projects' later, and I still love being a Mercy volunteer!"
In addition to her volunteer duties in the Alumnae Office, Mary Agnes has been a faithful volunteer at the Mercy Fathers' Club golf outings, and has supported Mercy's Be a Big Sister Again campaign and the Sr. Mary Anne Smith Endowed Scholarship. Mary Agnes doesn't limit her service work to Mercy High School, having completed over 4,000 hours of volunteer service as a reading tutor at Fifth District Elementary, in Baltimore County, Maryland, where she continues to work as a substitute teacher. Along with her husband, Bruce, a Mercy trustee, she made generous gifts to create Ben Carson Scholars Reading Rooms at Fifth District Elementary and at Prettyboy Elementary, both in Upperco, Maryland. The goal of these Reading Rooms is to create a literacy-enriched, nurturing environment for children to feel safe and secure as they develop their reading skills, aligning perfectly with Mary Agnes' passion for helping children learn to read. Mary Agnes was also a dedicated volunteer at her parish, Our Lady of Grace, teaching Catholic faith formation for more than ten years.
Mary Agnes remains connected to her Mercy sisters in the class of 1968, and enjoys connecting with her classmates on Zoom, at informal gatherings, and at her reunions.