2019 Alumnae Awards Announced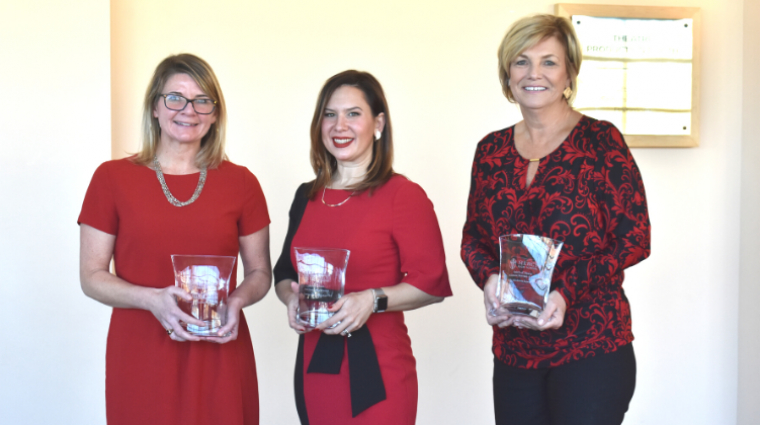 Laura LeBrun Hatcher '94, P'21 is this year's recipient of the McAuley Award to an Outstanding Alumna. Laura, a graduate of the Maryland Institute College of Art and the Maryland Partners in Policymaking program, is an award-winning creative consultant, design educator, and advocate for children with complex medical needs and disabilities. Laura's design firm, Hatcher Design Office LLC, specializes in graphic design solutions for non-profit organizations. Laura's design work is evident in nearly every facet of Mercy life—from the admissions viewbooks to the words of the Alma Mater at the school's new entrance to the Magic Nation logo. Since 2003, Laura has been an adjunct professor of graphic design at Towson University and has led graduate workshops for MICA, where she chairs the Alumni Council.
Laura is a founding board member of the Little Lobbyists, a non-partisan family-led group advocating for the rights of children with complex medical needs and disabilities. In that capacity, Laura has been interviewed by the Washington Post, the New York Times, Politico, New York Magazine, and Univision and has spoken at numerous public events. Laura's passion for the arts has led her to service on board committees for Young Audiences/Arts for Learning Maryland and Make Studio, which provides visual arts programming and gallery space to adults with disabilities in a supportive environment. Laura is the mother of Olivia '21, and Simon, age 11, a Little Lobbyist.

Maura Hilgartner Kadan '95, RN, MSN, OCN is this year's recipient of the Sr. M. Joannes Clifford Award to a Distinguished Alumna. Maura has been deeply involved at Mercy, serving at various times as the physical education department chair, JV and varsity lacrosse coach, assistant varsity soccer coach, and delegating nurse case-manager. As past president of the Alumnae Association, Maura is a current member of the Executive Board. She helped to create and has co-chaired the annual Mercy Alumnae Association's 5k: Have Mercy on Our Soles.
Maura holds a bachelor's degree in health and physical education from Roanoke College and bachelor's and master's degrees in nursing from the Johns Hopkins University School of Nursing. Maura's career includes working at Johns Hopkins Hospital as a nurse clinician II on the heme-oncology unit and as coordinator of the Colorectal Cancer Clinic. Since 2013, Maura has worked in clinical outreach and education at Personal Genome Diagnostics, a biotech firm dedicated to using genomic data to fight cancer. Maura is a member of the Oncology Nurses Society. In addition to her thousands of hours of volunteer service to Mercy, Maura volunteers at Lillie May Carroll Jackson School and the Ulman Foundation, a community of support for young adults and their loved ones impacted by cancer. Maura is the sister of Kristy Hilgartner Cummings, director of student services and college counseling, and the aunt of Caroline '16 and Bridget '23.

Elisa Hochrein Lawson '75, P'97 is this year's recipient of the Spirit of Mercy Alumnae Service Award. After working in retail for a number of years, first at the old Stewart's Department Store and then at Nordstrom, Elisa realized that breast cancer patients needed more service than traditional stores could provide. To better meet their needs, Elisa established The Women's Health Boutique at Mercy Medical Center in Baltimore, with a second location in West Ocean City, Maryland. Elisa, a Certified Prosthesis Specialist, works closely with the physicians and staff of The Hoffberger Breast Center at Mercy Medical Center to accommodate the needs of their pre- and post-breast cancer surgery patients. Each woman is measured and personally fitted with post-mastectomy garments, prosthetics, and swimwear. Elisa has provided this specialized service to women in Baltimore and on the Eastern Shore for the past 22 years.
Elisa is deeply connected to her Mercy sisters in the class of 1975, hosting class gatherings at her Ocean City home and attending reunions. She is also connected to Mercy High School through numerous alumnae relatives including her two sisters, Donna Hochrein Weil '74 and Joanne Hochrein Bardsley '76, and her daughter, Jennifer Lawson '97.