Magic Monday Alumnae Spotlight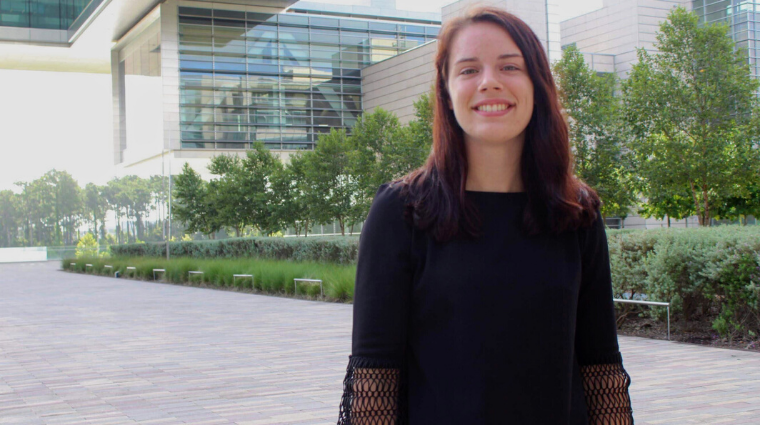 It's Magic Monday: June 1, 2020!
This month we honor a Woman of Mercy who exemplifies that a Mercy Girl is proud of herself, proud of her friends, and proud of her school. As Sammie Maygers '16 graduates from the University of Maryland, Baltimore County, she has been honored as an Outstanding Senior in Chemical Engineering and nominated for Valedictorian. Sammie is ready to embark on her career as a chemical engineer at the Naval Surface Warfare Center (NSWC) near Bethesda, Maryland.
Name: Sammie Maygers '16
Post Mercy Education:
B.S., Chemical Engineering, University of Maryland, Baltimore County, 2020
Personal and Professional Achievements:
During my time at UMBC, I was a Center for Women in Technology scholar and was active in the Chem-E-Car team which builds and races vehicles powered by precise chemical reactions. I was also an active member of the Shazam Ultimate Frisbee team, the American Institute of Chemical Engineers, and the Society of Women Engineers. In addition, I conducted undergraduate research and was a teaching fellow for a chemical engineering kinetics course, which gave me the opportunity to support students academically and personally. The course load of a student taking this level of chemical engineering courses can really be overwhelming, and I love helping students realize that making mistakes helps them grow as engineers.

Please share your favorite Mercy memory.

My favorite Mercy memory is sharing my Sophomore Pin Day with my older sister, Katy Molloy '10, who returned to Mercy to pin me. Our advisor, Ms. Joanne Gargiulo Lazzeri '71, P '01, was on stage and, just as we began to sing The Circle of Mercy, my sister made a funny face and we both started laughing. Sure enough, Ms. Lazzeri gave us a disapproving look from the stage, but we both knew that she did not expect us to be able to hold back our laughter together. There is a really nice picture from when Katy got to pin me, and at that moment, I really felt like I belonged at Mercy.
Were there any Mercy faculty members who especially impacted your life? Why?
Ms. Kitty Yanson '66 really impacted my life by teaching me that I do not have to be afraid of taking up space. When Ms. Lazzeri retired and I had to get a new advisor, I asked Ms. Yanson if she would be up for the task. The first thing she said to me was, "Well there goes my quiet mornings!" And to be honest, I don't think she had a quiet morning until I graduated. She was able to smile throughout my antics and make me feel loved, and that meant a lot to me.

Were there any classes you took at Mercy that stand-out to you?
My chemistry class stood out to me, and not just in the obvious reason that I became a chemical engineer. Looking back on it, I was so impressed with the quality of teaching that I received. As a college freshman, I had a really good grasp on the material in my introductory chemistry class. It was obvious that Mercy had prepared me much better than the schools from which my classmates had graduated.

Which characteristic of a Mercy Girl particularly resonates with you?
The characteristic that stands out to me the most is "A Mercy girl is proud of herself, her friends, and her school." It took a lot for me to be able to be proud of myself. And I am incredibly proud of my friends who are doing amazing things alongside me. I used to hide my accomplishments because I was afraid that I was going to push people away by sharing. Through my friends expressing that they are proud of me and vide versa, I have come to be confident in the fact that I worked hard, and I deserve to be proud of myself. That is a lesson I hope every girl learns in time. You can never shine too brightly, and there is no need to dim yourself. Be proud of your accomplishments and be proud of yourself. Always tell others how much you are proud of them. It can make a world of difference to someone.
Magic Monday Archives:
Dr. Amanda Fernandez Thompson, MD, FAAP '06

Dr. Niccole McGowens, Psy.D. '90
Mary Faith Gardiner Ferretto '76