8th Graders
Activities are subject to modification/rescheduling due to external circumstances. If circumstances change, we will be in contact with registered families with the options available to them.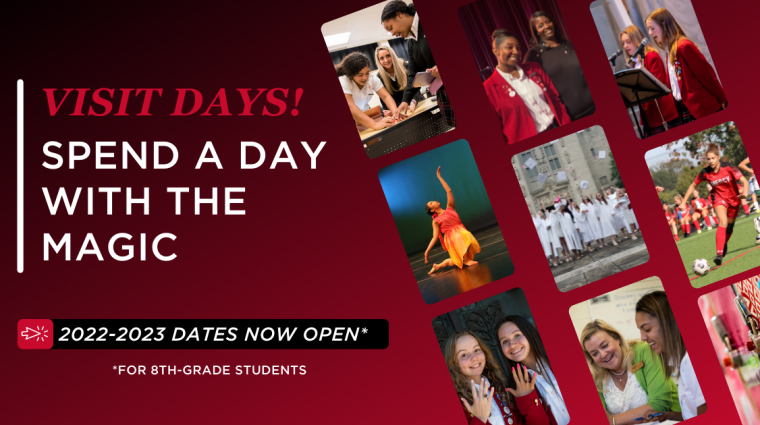 Visiting Days
One of the best ways to learn about Mercy is to spend a day with us, experiencing the Mercy Magic for yourself! Your Visiting Day will also allow our Admissions Department to learn all about you during a brief interview, required as part of the application process.
You'll be paired with a current Mercy freshman or sophomore to observe her classes in action, meet teachers and other students, and get an idea of what life will be like in high school.
Visiting Days for the 2022-2023 school year will go live July 15, 2022.
---
Magic Moment Admissions Information Sessions:
Parents- Visit Mercy!
We invite the families of 6th, 7th, and 8th grade students to join us for an admissions information session each month during the fall and winter. Spend some time at Mercy and learn about our signature programs, academic opportunities, and admissions processes. Take a tour of our campus with a member of the admissions team and have all of your questions answered.
Registration will open August 2022.
---
Open House
Visit our renovated campus, meet our wonderful students, and learn more about what makes Mercy MAGIC.
Mercy's 2022 open house will be held October 22 from 10:00 a.m. until 2:00 p.m.
Registration will open August 2022.
---
Admissions Checklist
We accept students with a strong academic record who are bright, motivated, and hard-working, are dedicated to the core Mercy values of compassion, hospitality, and community, and who want a top-notch college-preparatory education. We actively encourage a diverse student population, seeking students from many different neighborhoods and backgrounds.
Every applicant to Mercy needs to submit the following items:
An application for admission
Final grades from their most recent years of school
Any standardized testing reports received in the last three academic years
A common referral form from a current teacher
Incoming freshmen must take the High School Placement Test
Incoming students must attend a Visiting Day and take part in a brief interview
---
Individual Tours
Mercy's Admissions Office is always available during the school year to meet with families and give tours by appointment. Contact us at admissions@mercyhighschool.com to schedule a time.
---
FAQ