Virtual Admissions
Until we can invite you to our extraordinary campus again, Mercy would like to give you and your daughter several options for learning more about our mission to provide a rigorous education for girls marked by academic excellence and personal attention.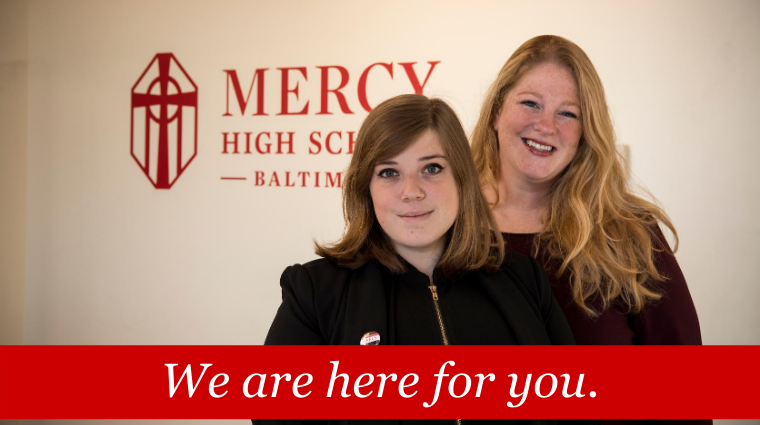 Meet Us
---
Personal attention is one of the hallmarks of a Mercy education, and that experience begins now! Our Admissions Team is eager to meet you and hear your specific questions. Schedule a one-on-one conversation via video conference or by phone by contacting us at admissions@mercyhighschool.com to schedule a time. We are here to help!
---
Virtual Fairs
We know that this year's admissions events look different than before. Our commitment to YOU, however, and to helping you navigate the process hasn't changed. Join us from the comfort of your own home at one of the virtual high school fairs the Archdiocese of Baltimore is hosting to talk with Mercy Girls and members of our administration. The sessions will provide what you need to know about Mercy's admissions process, highlight our signature programs, and share information regarding scholarships, financial aid, transportation, and much more! Be sure to select Mercy for one of your live video sessions when you register. We look forward to "seeing" you at the fairs which will take place on September 28, October 6, and October 19. Register for one of the sessions on the Archdiocese of Baltimore's website, and check out the online high school guide as well.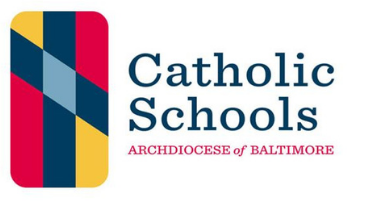 ---
Virtual Visiting Days
Experience the MAGIC of Mercy! One of the best ways to learn about life as a Mercy Girl is to share a day with one, which is precisely what happens on our Virtual Visiting Days.
Your Virtual Visiting Day will allow you to meet with our Admissions Department, experience what classroom learning is like at Mercy, and speak with our current Mercy Students about any questions you may have! It will allow our Admissions Department to learn all about you during a virtual interview, required as part of the application process. Don't forget to fill out an inquiry before your visiting day; We can't wait to get to know you!
Until then, enjoy a special virtual tour of campus in the video below:
---
Personal Focus, Global Perspective, Mercy Changes Everything
Take a look at our signature admissions publication to get a glimpse into the MAGIC of Mercy. Our academic offerings and vibrant student life provide each Mercy Girl an opportunity to discover her strengths allowing her to positively impact the Mercy community and beyond. Mercy values change everything.
---
Magic Moment Information Sessions
"Magic Moment" Information Sessions offer an intimate and relaxed setting for families to learn more about Mercy directly from our President, Mary Beth Lennon '85. Sessions are scheduled monthly, from September through December at 9:30 a.m., and take approximately one hour. Even in our new virtual reality, prospective families have enjoyed meeting and conversing with various members of our Leadership Team by phone or video conference. To sign up for one of the following dates, please click below:
Tuesday, September 22 at 9:30 a.m.
Tuesday, October 13 at 9:30 a.m.
Tuesday, November 10 at 9:30 a.m.
Wednesday, December 9 at 9:30 a.m.
Mercy will be scheduling additional information sessions to take place on several evenings throughout the fall for perspective families to learn more about our signature programs and extracurricular activities, and more. Please continue to check back for updates!
---
Public School Info Session
Need some clarification on the high school application process? You're not alone! It's been made even harder to keep track of the transition from public school to private school during these virtual times. Not to worry; The Mercy Admissions Team is hosting a public school zoom info session to answer any and all of your questions.
---
High School Placement Test
The High School Placement Test is offered on December 5 and December 12 at Mercy High School at 8:30 a.m. All Archdiocesan grade schools will administer the test on December 2 at their respective locations. Register online to take the High School Placement Test:
---
8th Grade Campus Tour
This after hours tour will be offered to 8th graders only and will offer a peek at the Mercy Campus. The tour is optional and is not needed to complete an application at Mercy. If you're interested in this tour, please know you will need to fill out a health form before entering our campus and may be asked to take a temperature scan. The health form will be sent out the night before your tour. Please be advised masks must be worn the entire tour and must cover your nose. You may have a maximum of three people in your tour (Two parents, one student).
Mercy is mostly virtual at the moment so our campus,offices, and classrooms may be empty during the tours, but we are still excited to show you our campus and all that is Magical about Mercy!
---
Follow Us
Whether on or off-campus, our social media channels offer the wonderful experience of student life, resources, stories of accomplishment and generosity happening throughout the Mercy community, and the opportunity to pray with the Mercy family.


---
Application Deadline & Procedures
The 2020 application deadline is Friday, December 18. Click below for more details and to begin your application to Mercy. Our fall events are designed to help you get acquainted with Mercy and you will have plenty of opportunities to ask questions about the application throughout the process. For additional information, please take a look at our Infobook below! Questions? Contact admissions@mercyhighschool.com!