Virtual Admissions
Until we can invite you to our extraordinary campus again, Mercy would like to give you and your daughter several options for learning more about our mission to provide a rigorous education for girls marked by academic excellence and personal attention.
Meet Us
---
Personal attention is one of the hallmarks of a Mercy education, and that experience begins now! Our Admissions Team is eager to meet you and hear your specific questions. Schedule a one-on-one conversation via video conference or by phone by contacting us at admissions@mercyhighschool.com to schedule a time. We are here to help!
Virtual Fairs
---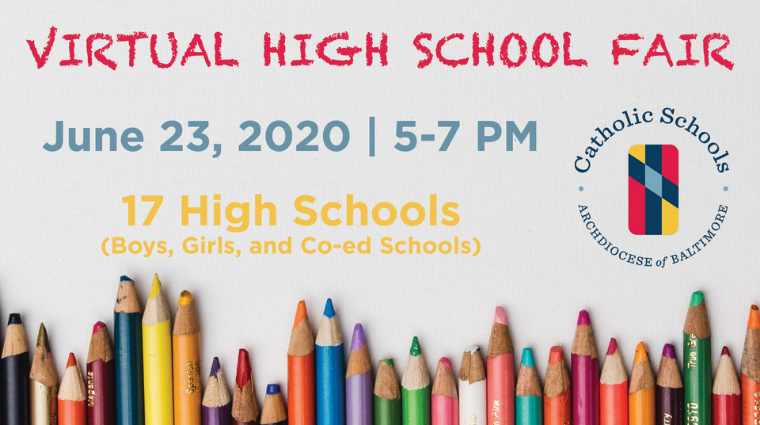 The Archdiocese of Baltimore is hosting a series of virtual high school fairs for families interested in getting a jump start on the high school admissions process. From 5:00 – 7:00 p.m., families will have the opportunity to engage representatives from Catholic high schools in the Archdiocese of Baltimore. The sessions will provide a glimpse into the admissions process, highlight signature programs, and share information regarding scholarships, financial aid, transportation, and much more! Participating schools will rotate live video sessions and families may register for up to four. Please complete the RSVP form below to receive access details for the virtual fair, and we look forward to "seeing" you at the fair!
Visiting Days
---
Experience the magic of Mercy! One of the best ways to learn about life as a Mercy Girl is to share a day with one, which is precisely what happens on our Visiting Days.
You'll be paired with a current Mercy freshman or sophomore to participate in classes and community gatherings, meet teachers and other students, and get an idea of what life will be like as a Mercy Girl. Your Visiting Day will also allow our Admissions Department to learn all about you during a brief interview, required as part of the application process.

We are developing new and creative ways to gain that personal experience of Mercy during the 2020-2021 Admissions season. In the meantime, enjoy a brief visit to campus in the video below:
Personal Focus, Global Perspective, Mercy Changes Everything
---
Take a look at our signature admissions publication to get a glimpse into the MAGIC of Mercy. While exploring personal interests, Mercy Girls discover their impact in our community and beyond. Mercy values change everything.
Magic Moments
---
"Magic Moment" information sessions offer an intimate and relaxed setting for families to learn more about Mercy directly from our President, Mary Beth Lennon '85. Sessions are scheduled monthly, from September through December at a variety of times in an effort to accommodate as many schedules as possible. Even in our new virtual reality, prospective families have enjoyed meeting and conversing with various members of our Leadership Team by phone or video conference. To sign up for one of the following dates, please click below:
Tuesday, September 22 at 9:30 a.m.
Tuesday, October 13 at 9:30 a.m.
Tuesday, November 10 at 4 p.m.
Wednesday, December 9 at 9:30 a.m.
Open House
---
Mercy's signature Open House is scheduled for October 24th from 10:00 am to 1:00 pm. We are also planning alternative options, and will be communicating those closer to the opening of the 2020-2021 academic year. Come visit our renovated campus and learn more about what makes Mercy Magic.
High School Placement Test
---
We offer an opportunity for students to take the High School Placement Test right here at Mercy on Saturday, December 5th at 8:30 a.m. if it is not being offered at your current Archdiocesan grade school. The Archdiocesan grade schools are administering the test on December 2. If you are not able to make it on December 5th, don't worry—the test is offered again on Saturday, December 12th at an alternate location. Register online to take the High School Placement Test:
Follow Us
---
Whether on campus or off, our social media channels offer the wonderful experience of student life, resources, stories of accomplishment and generosity happening throughout the Mercy community, and the opportunity to pray with the Mercy family.


Application Deadline & Procedures
---
The 2020 application deadline is Friday, December 18. Click below for more detail about Mercy's application and to begin yours. Our fall events are designed to help you get acquainted with Mercy and you will have plenty of opportunities to ask questions about the application throughout the process.