6th and 7th graders
We are re-imagining our Admissions events. We have a lot of fun and informative events planned and would love for you to be a part of them!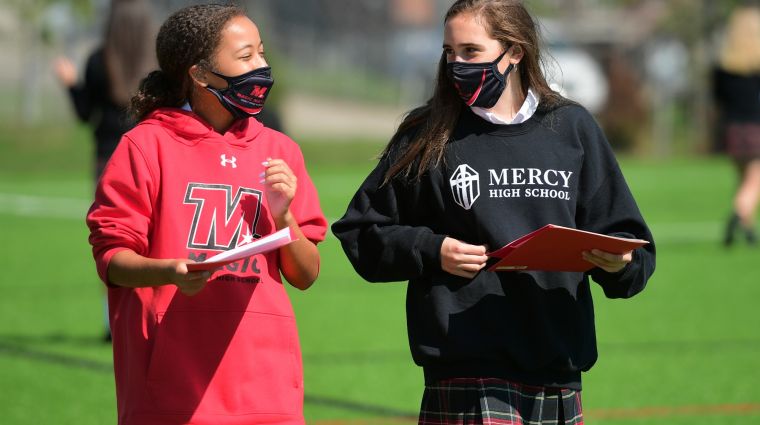 7th Grade Visiting Days
We would like to invite your daughter to our campus for an in person visiting day!* She'll get to see classes, learn about the admissions process, and meet some of our students, faculty, and staff members. Our visiting days are a great way to check out all there is to love about Mercy!
Registration will open in the Spring of 2022.



*Activities are subject to modification/rescheduling due to external circumstances. If circumstances change, we will be in contact with registered families with the options available to them.

---
Open House
Mercy's Open House will be held October 23rd from 10:00am to 2:00pm.

---
Parents- Visit Mercy!
We invite the families of 6th, 7th, and 8th grade students to join us for an admissions information session each month during the fall and winter. Spend some time at Mercy and learn about our signature programs, academic opportunities, and admissions processes. Take a tour of our campus with a member of the admissions team and have all of your questions answered. Magic Moment Sessions are held 10/12, 11/11. 12/14. We can't wait to see you there!
---
Virtual High School Fairs- All grade levels
The Archdiocese of Baltimore will once again be hosting virtual high school fairs for all interested 6th, 7th, and 8th grade families. There will be several throughout the summer and school year and we would love to see you at Mercy's session! The first fair will be held on the evening of Monday, May 24.

Virtual Fairs will be held from 5-7 p.m. on:
Monday, May 24
Tuesday, June 22
Wednesday, September 29
Monday, October 11
Tuesday, November 2
---
Frequently Asked Questions